The year of 2016 was a year of hyper personalization in email. This will probably be even bigger in 2017. If you run email marketing campaigns, you MUST communicate with your audience in a way that is truly relevant and personal - allowing your company to build strong customer relationships that drive sales. Be there for your customers and be the relevant and helpful brand.
Make a hyper personalization and people-based marketing a core ideas around which you wrap your email strategy.
Take a look at these 4 essentials of email campaign strategy and make certain that your campaigns work well and deliver results.
1. Deliver the value by matching your subscribers needs
Spray and pray approach - when you send loads of generic emails, hoping that you will be lucky to fit some of your subscribers needs is gone. If you're still doing this - stop. Do you want your subscribers to be actively clicking and buying? Engage them into timely communication and ensure the relevance of your email marketing campaigns.
Simply said: send highly personalized emails.
Recipients desire relevant content that feels like a one-to-one communication and quality in email campaigns is absolutely essential. If you want to be using email effectively, make your emails something that people actually want to read and respond to.
The answer is: email list segmentation.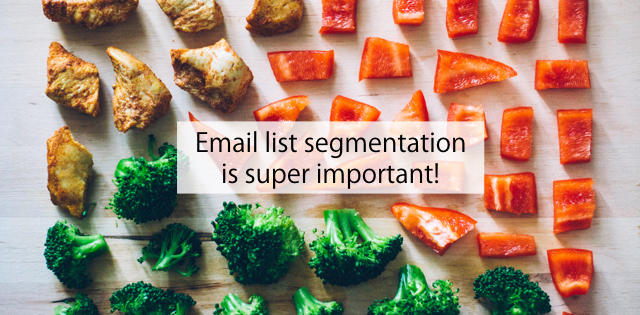 How to start with segmentation?
Segmentation allows you to split mailing list into parts (segments), based on what you know about the subscribers. The aim is to personalize and precisely match the content of the campaign to the needs and interests of your subscribers.
Decide which metrics are most essential for your business and start with your segmentation strategy. Some examples include:
Demographic data
The easiest way to segment by demographics is with your website forms. The more information you can get in the sign-up process, the more options you'll have.
Use multiple opt-in forms in order to provide multiple ways for your visitors to subscribe. Some of them may don't want to spend much time on signing up and the easiest the form will be the better.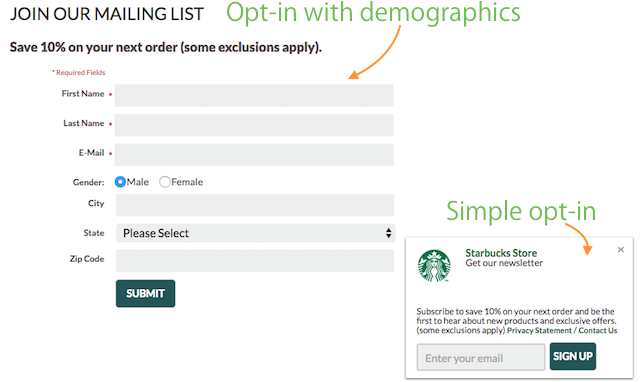 Email engagement
Track basic metrics as Open Rate and Click Through Rate and divide active vs inactive subscribers. You might, for example, create a group of "active" who open at least 75% of your messages, another group who opens them less often and a group of "sleepers" who almost never open them.
Then send thank you email to loyal customers: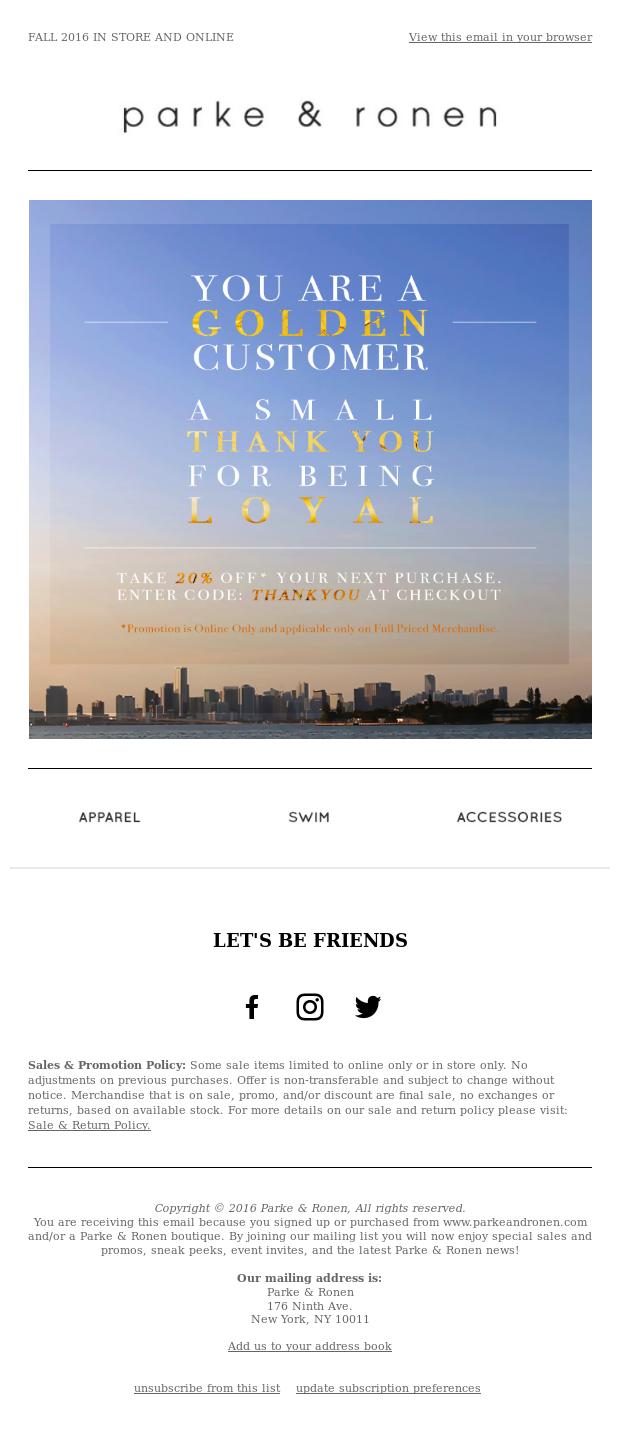 And send win-back email to inactive subscribers: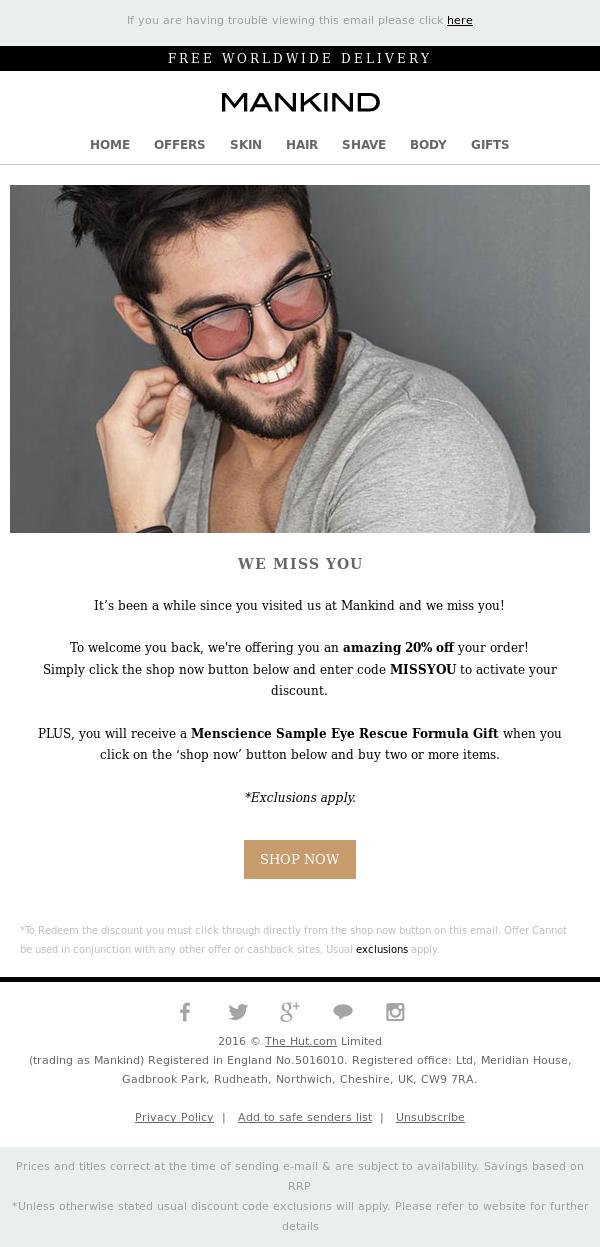 Past purchases
Segment your subscribers by product purchased, category of product purchased, amount of money they have spent or combine these factors.
You will be able to create buyer personas and implement dynamic content.
Behavioral data
You can split your list into segments based on the actions that your customers take when interacting with your website. This allows you to send targeted and triggered emails to each individual recipient.
Amazon, the largest online retailer, has mastered sending personalized offers to customers based on their on-site behaviour. The brand is well know from sending post-visit emails that really help. An example?
A customer is browsing Amazon and looking for some electronics. He filters the results and looks at the specific product. A few days after he gets an email from Amazon with the subject "Looking for a new [name of the electronic]?". The email has customers name and suggests the same product our customer looked up before. 
With segmentation you will see a rise in your Open Rate
If your subscribers do not open the campaign, even the most ingenious creations won't convince them to buy. 39% of marketers who began using segmentation saw a significant rise in their Open Rates.
Adapt your content to fit subscriber segments to recipients get information that matches their interests, making them more likely to engage with it.
With segmentation you will see a lower unsubscribe rate
One of the main reasons that subscribers leave is that the content isn't relevant to them. Segmentation can cut the unsubscribe rate by an average of 28%.
By segmenting and then delivering targeted, relevant content to your subscribers, you'll avoid retention. This way mostly everything you send will offer your readers value.
With segmentation you will see higher sales results
Marketers who use segmentation responded that their number of transactions grew by 18%. I can give you a simple example from eCommerce market.
The average cart abandonment rate for Q3 2016 was 74.4%. That's a huge number of lost sales. But this also presents an opportunity to get in touch with indecisive customer with a follow-up email. Remind them that their cart is still available. You already have determined what they are interested in and this allows you to send targeted email on that product.
2. Remember that email is mobile
Having started off as text-only, email embraced multimedia and now is undergoing transformation from desktop to mobile-first. Consumers cannot escape an amplified dependency to constantly check mobile devices no matter where they are. Responsive newsletters are no longer optional, they are a must.
According to Litmus Email Analytics 55% of email is now opened on a mobile device.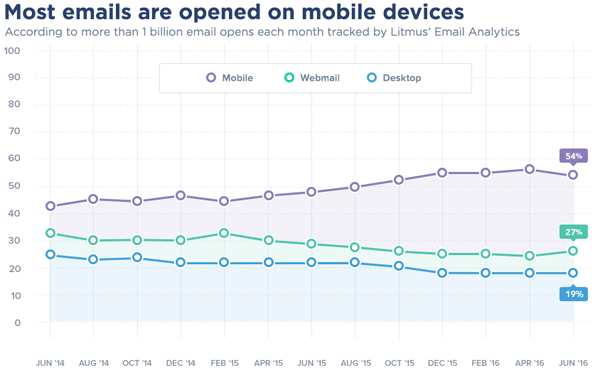 If you want to be up to date with mobile email statistics I strongly encourage you to check Jordie van Rijn's blog post on a regular basis: The ultimate mobile email statistics overview.
Create your email templates using responsive design
Pay attention to the sender name, email subject line and preheader
Most email programs installed on mobile devices devote significant space to the sender field.
The subject line is typically not given much importance when displayed on mobile devices. But you can still affect opening rates by personalization or use of a special symbols.
Preheaders should not be underestimated in their effectiveness in driving your open rates on mobile devices way up. Try to use them as an extension of the subject line, directly related to the content of the message.
Pay attention to the readability of the message
The area that is visible upon opening email on mobile without having to scroll down is known as "above the fold". This space plays a crucial role in conversion rates of any campaign.
Ensure that your subscriber can see all the information without scrolling down.
A simple message with a prominent CTA is the best way to encourage subscribers to click and be taken to your landing page.
Choose fonts that aren't too small and difficult to read. A good size for titles is 30px. Text in the body of the message should use at least 14px.
Use a single-column layout of not more than 520px.
Buttons in your newsletter should be long, wide and at least 44px. Remember that fingers needs a certain amount of space to click on anything.
Use contrasting design elements to draw attention.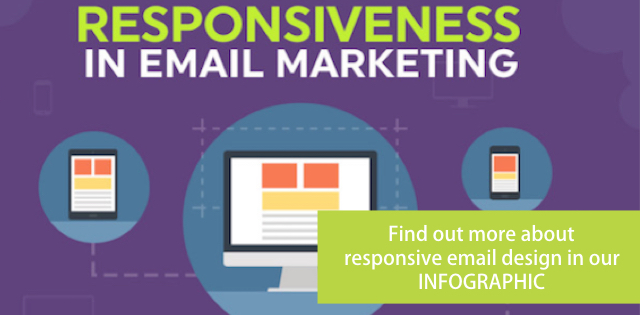 3. Utilize email marketing automation
Good email marketing tools provides you with more ways to creatively use automation. There is one primary goal of utilizing automation: to turn your subscribers into loyal customers. Automated emails can speed up this process, because they are timely, personalized and hyper-relevant to the reader.
You should take advantage of the possibilities offered by the ability to track the behavior of visitors to your website using Google Analytics or dedicated tracking codes. It's all about the experience subscribers gets with your brand across all moments when they are interacting with you, and how those moments build a relationship. If you have a chance to automatically react to what subscribers do on-site, you have the right data to send messages that address individual needs in that very moment!
Let's take a look at this example:
You've just earned a new subscriber. Let's call him Tom. He submitted his email on-site. While Tom is browsing your website now, he already has received a welcome email in his inbox. Nice - the relationship has started.
Tom opened the email, found out he has got a discount on his first purchase! Now Tom is browsing your online store but suddenly decides to abandon your website… Your email system sends him a message with the items he was looking at. Just like in previously mentioned Amazon email example.
What if Tom doesn't open it? Your software tracks it also and can automatically try to nurture the conversion with different type of content, not only promotional but educational. Or at the right time send another email reiterating the discount and adding urgency with an expiration date.
Automation doesn't have to be a daunting task and with the right tools at your hand you can start it no matter what size your business is.
Recommended resources for email marketing automation
Check how small business can be empowered with automation [here]
Get an E-book which will help you understand how leveraging data on subscribers behaviour will boost your eCommerce sales [here]
Learn how to do lead nurturing in B2B [here]
Integrate Google Analytics and FreshMail to automate your email marketing [here]

4. Think about the overall quality and execution
Mailboxes are a battlefield of subscribers attention. Basically you have about 3 - 4 seconds to convince your subscriber that staying with you is worthwhile.
Make a good impression on the person receiving your email and always try to pack your emails with useful information. Just be a helpful person/brand and it will pay off.
Delivering valuable content should be your primary goal. Remember also that sometimes the way you wrap your offer may win you a new customer. The most widely read internet content are usually pieces which are short and snackable. Divided into chunks, easy to read, clean and accompanied by high quality graphics.
You can transfer good online content rules into email content:
First, start from a good email title to ensure your email will be opened. If you run B2B company it's better if you try not to sell what's inside, just tell what's inside.
Or choose more laid back approach and see what resonates with your audience. For example Chubbies Shorts, a retailer, is rarely sending promotional emails and their newsletters are always fun and full of surprising content.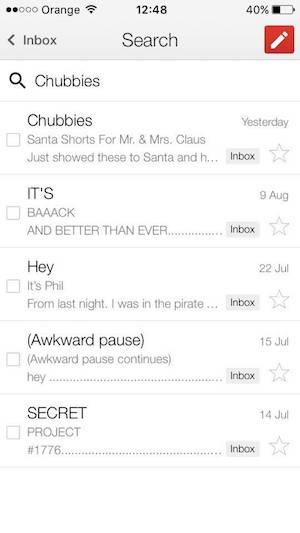 Then focus on how the customer can benefit on your offer. You are more likely to achieve higher conversion if you include your value proposition first in your email. Then end it with supporting arguments.
Copyblogger states 80% read content headlines; just 20% read content. Research by the Nielson Norman Group indicates only 16% of web readers read everything.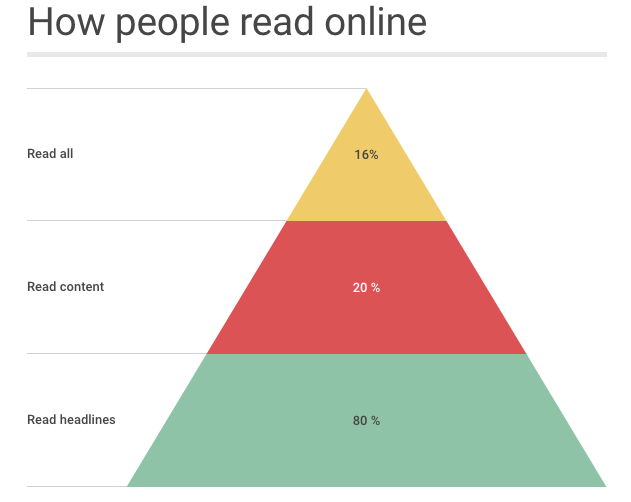 Last but not least: think design and visuals. Human brains are wired to process visual information 60,000 times faster than text. While it takes us 50 seconds to go through a page of 250 words, it takes only 1/10 of a second to process a visual scene.
Include quality graphics related to your email content. there are studies that proved that human attention is strongly attracted by faces. This is particularly visible in promotional content of clothing companies.
Wrap up
In the digital world, email engagement is about as close as you can get to a handshake. 
When someone clicks your email, they've taken at least 3 high intent actions already:
read the subject line, 

clicked to open the email,
read the email,
clicked on the email to be directed to your website.
If you don't stop focusing on your subscribers wants and needs you can turn email marketing into a lead conversion machine. Devote your time and focus on providing continuous value to your subscribers, be human-like, be the useful and helpful brand. And sometimes with a little help of automation, get a step ahead of what your customers are about to do and provide them with the relevant and valuable content to drive profitable behaviours.