Email marketing is still one of the most effective channels for communicating your brand's message. In their Email Marketing Census 2016, Adestra confirmed that email is once again positioned to generate large returns on investment, with 73% of those surveyed indicating that email marketing consistently delivers high or, at the very least, satisfactory ROI.
To take full advantage of the potential of email marketing, you need to know a few basic rules about creating effective campaigns.
Take a look at what you should pay careful attention to when designing your newsletter templates and be sure that you're not making basic mistakes while learning about email marketing best practices in our latest infographic!

Collecting a mailing list
First of all, be absolutely sure that your subscriber email list is built according to applicable legal regulations. Don't buy addresses and collect them from places like websites or online forums.
When collecting addresses, attract new subscribers through sign-up forms:
on your website

with pop-up windows

on social media pages

at events with tablet and FreshForm
Also, be sure to use the double opt-in method of newsletter subscription to be sure that you are adding quality as well as quantity. Learn more about building your mailing list in our guide.

Maintaining email list hygiene and avoiding spam traps
Failing to keep your email list well organised and not updated it regularly by deleting inactive addresses leaves the door open to spam traps.
These are addresses that used to help identify the sources of spam. Sending anything to these addresses can ruin your reputation as a sender.
To minimise this risk, delete addresses that have generated at least 4 soft bounces or 1 hard bounce.
Subscribers
You have all kinds of different subscribers in your mailing list with their own histories, needs and wants. That's why it's so important to create groups or segments that group similar subscribers together. This allows you to create more relevant and personalised content that speaks to their interests.
There are a few ways to segment your email list, including:
Segmenting on the basis of declarative data. This is information like name, gender age of address that is sometimes given during the signup process.

Segmenting on the basis of behavioural data. How your subscribers respond to your messages - what they did and didn't open or click on - can be used to groups them together for more targeted messages in your next campaign.

Segmenting on the basis of their purchase histories. Every purchase is another data point that tells you something about the needs and preferences of your customers. Track and gather this information with tracking codes or Google Analytics.
There are countless ways to segment your subscriber list and personalise your messages - it all depends on how much information you have about your subscribers.
Segmentation is the key to increasing your CTR and Open Rate, improving your conversion rate and reducing the number of resignations from your newsletter.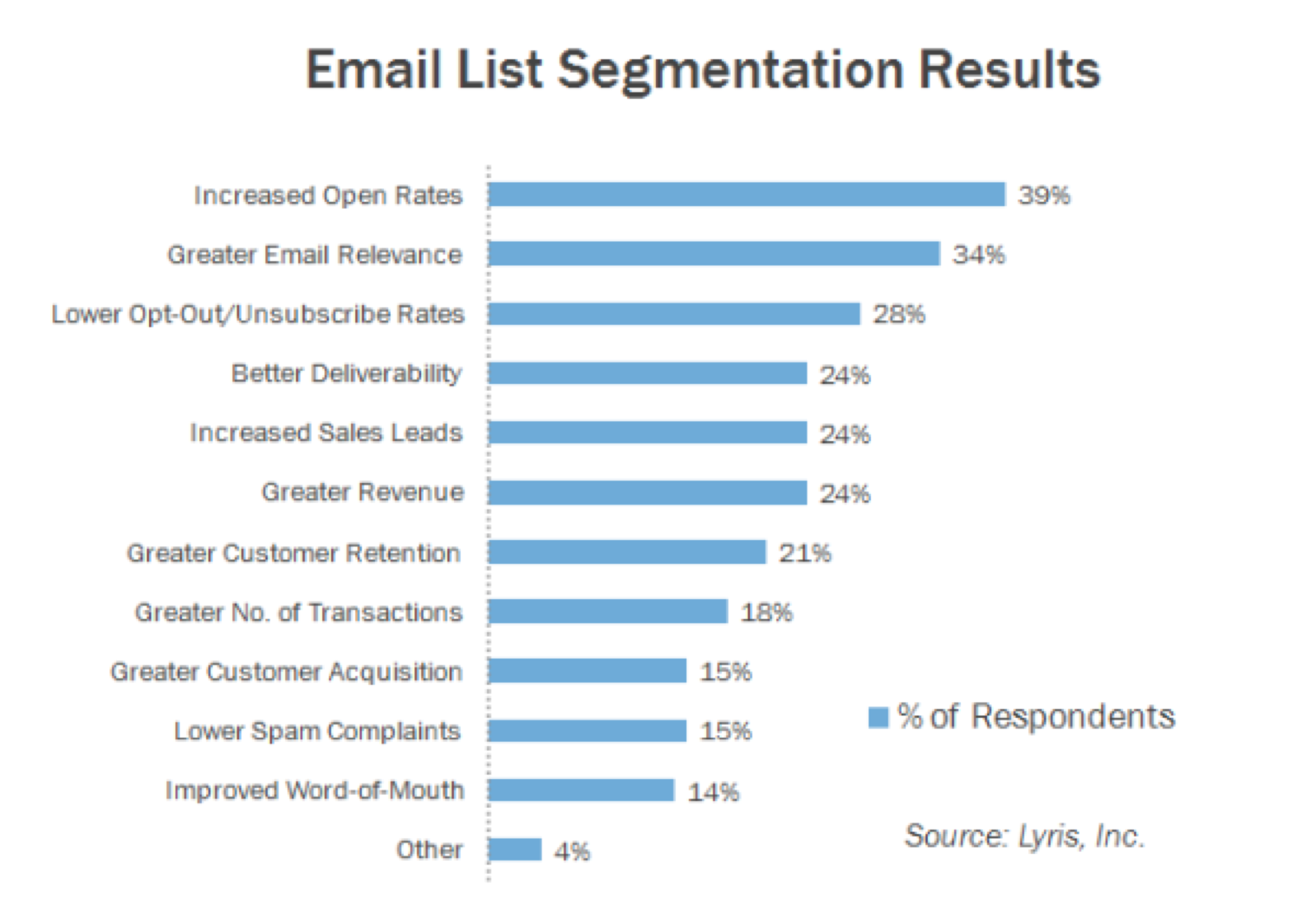 Message content and design
Content
The most important part of your message is its content. After all, the whole point is to present something specific to your subscribers, whether it's encouraging them to click, register, respond or buy. Along with the message sender name, the subject line is your first chance to make a good impression is in the subject of the message.
Good subject lines:
are short

stand out (with, for example, the help of special symbols)

are personalised (using the name of the recipient)

say something about what subscribers can expect in the message
Careful with what you say! Avoid terms and phrases associated with spam. Anti-spam filters are especially sensitive to words like:
"Buy now"

"Special offer"

"Free"

"Address comes from open database"

"This is not commercial information"

Excessive use of question marks and exclamation points
The next important matter is making sure that you add a resignation link to your newsletter to make it easy for subscribers to leave your mailing list if they wish.
You should also include a link to view your message in a browser or a "preview link". It sometimes happens that an email service provider can fail to properly display your message. Preview links let your message display as it should in a new window.
Remember that all of your messages should deliver valuable, useful content to your subscribers. Personalise your messages using the information you have about them to increase the chances that your subscribers stay engaged.
Design
The appearance of your message is also very important. If subscribers open it and see a confusing, hard-to-read mess, you not only lose their confidence but they will almost certainly unsubscribe or even mark your messages as spam. With the tools you have at your disposal, there's no excuse for not having a great looking, professional quality design in every message you send.
Use one clear CTA. Your recipients won't have any doubt about where they are supposed to click in order to go further
Align your text to the left to make it easier to read
Don't use too many fonts - it makes your text look disorganised and messy
Use sans serif fonts in the appropriate size to make your text easier to read
Balance the amount of text and graphics in the message. If your proportion of graphics is too high, your message can be labelled as spam.
Responsiveness is another important part of putting your message together. About 78% of smartphone users check their email on them and that's why your communication must display properly on mobile devices. 

Optimisation and automation
To get better results from your messages, you have to optimize everything you can:
Use A/B tests on the subject line and sending time

Check to see if your message displays properly in different inboxes and if it contains any "spammy" elements

Carefully examine information in your campaign reports, especially the Open Rate and CTR

Use Email Marketing Automation for autoresponders and dynamic content

Frequent mistakes
We all make mistakes sometimes and hopefully we learn from them when we do. Here's a list of common mistakes to avoid in email marketing.
The biggest mistake you can make as an email marketer is to send a message to someone without first receiving their consent. No one likes to get unsolicited commercial offers in their inbox. If you don't want them to mark your messages as spam, follow the basic rules of permission marketing and be sure to get consent from all subscribers before you send you campaigns.
Another mistake is to send your campaigns at irregular intervals. Help your subscribers to get used to messages from you by sending them at regular, predictable times. It's a good idea to clearly communicate the frequency of your campaigns in the first message you send new subscribers.
It's best to avoid using things like FW: or RE: in the subject line of your campaign even though you might think it's a good idea since it gives the impression that it's part of an ongoing conversation. It happens to be highly characteristic of spam so just leave it.
Don't forget that more than half of all opened messages are opened on mobile devices. A lack of responsiveness means that your message may not display as it should on smartphones and tablets.
Not personalising content for each subscriber and not using email list segmentation are also serious mistakes in email marketing. Sending general, uniform offers to all subscribers is typical of mass mailing and sooner or later will result in huge numbers of subscribers resigning from your mailing list.