Can video email marketing improve your brand image and boost your campaign results? Most newsletters focus on seasonal promotions, discounts and freebies but just selling is no longer enough to attract customers.
Modern marketers know that only brands with personality can create a value for consumers. A video newsletter is a great tool to make real contact with your audience and show your individuality. Try it for yourself - educate, entertain and build relationships through engaging stories through the use of video.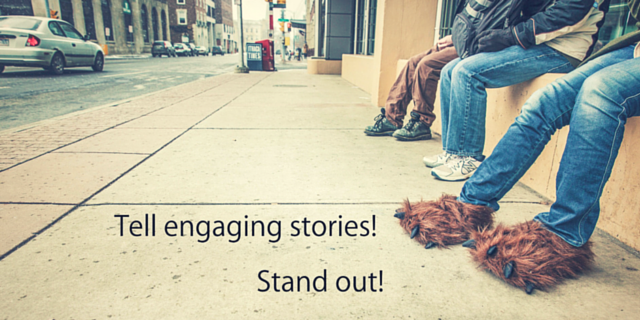 Check how #video #content can boost your #emailmarketing Click to Tweet
Stand out!
108.7 bilion emails will be sent daily in 2015 (Mobee Dick). Some of those will end up in your mailbox but will they grab your attention? Well, will they?
If you want your newsletter to be noticed in an inbox flooded with offers, give video a chance. It is worth spending the time to get familiar with it and experiment with a new type of content that will get attention.
Video is among email marketing trends for 2016! Find out about all the trends
here
.
Video is the most widely consumed kind of content on the Internet
Video marketing is on the rise. Statistics of unique views on YouTube or the percentage of Google searches for videos prove that it is the most wanted content on the Internet.
Films can convey emotions and moments that are memorable thus video results in higher engagement rate in comparison to written content or static graphics.
Look at Snapchat growing popularity and Facebook hype over video content. There were 17 million videos uploaded directly to Facebook in May 2016!
Being aware of these advantages, more and more marketers add videos to their marketing strategy in order to strengthen their brand communication. According to the "Video Marketing Trends Survey Report" in 2014:
93% of marketers use online video for marketing and communications
60% use video for email marketing
82% of marketers stated that video marketing has had a positive impact on their business or organization
Sign up for our newsletter
Looking for inspiration? Sign up for our newsletter and start creating amazing email marketing campaigns!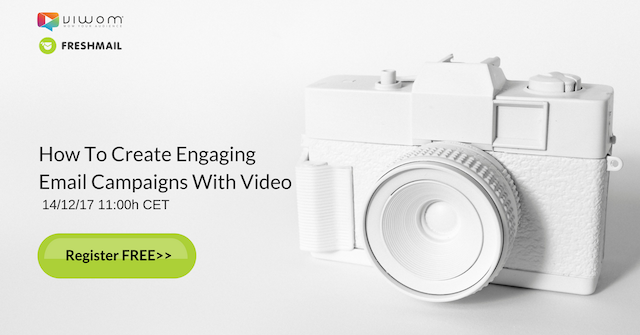 Advantages of video email
The first 2 or 3 seconds determine if your recipients are interested in what you have to say. Can video content help?
Video embedded in email results in higher open rates and CTR's
Emails with titles containing phrases such as: "video" or "watch a video" are more likely to be opened. At FreshMail we've analyzed our customers' newsletters. Video in email, even in the form of a simple url, was the most clicked link and an effective call to action.
Video builds trust and enhances the brand's voice
Video can tell memorable stories that help your brand become recognized and desirable. Try to use video content and persuade your subscribers to give your offer a chance by showing your personality in a very private place - their email inbox.
Multimedia encourages customers to visit your website
An engaging video not only gets an email opened, viewers spend more time examining its content too. Your website traffic grows, which boosts your SEO rank and sales results.
A video newsletter has a higher chance to go viral and spread all over the Internet. Getting subscribers to share your content on social media platforms is a great way to reach new customers.
It's always a good idea to encourage recipients to share your project by inserting social media buttons in the email layout.

Free uses of Facebook to drive high email conversion rates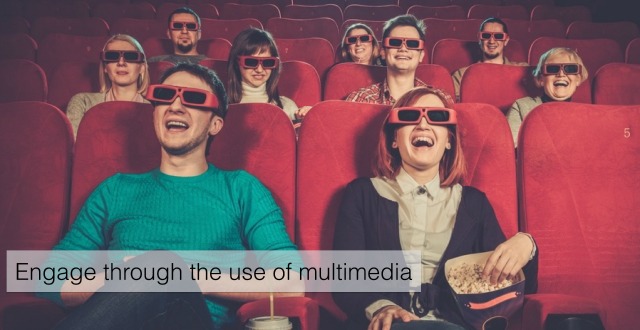 Ways to present videos in an email
You can present multimedia to recipients in the following ways:
1. As a static graphic, eg. video frame, with a "play" button in the middle. Link the image to your video's location on the Internet, an external hosting-site like YouTube or Vimeo.
2. As an animated GIF made from several screenshots of your video.
These methods are frequently used and remain highly effective. However it is a compromise between what the marketer wants to do and the available technology to do it.
With the introduction of HTML5 and CSS3 technologies an interesting option became available with some email clients. Video can be embedded in emails and ready to watch directly from the email client.
Video embedded in email thanks to HTML5
With help of HTML 5 and CSS3 email services can act like media players. By implementing the HTML5 code path with a <video> tag the movie file becomes an integrated part of the email. Use this to show your project without forcing recipients to leave their mailboxes.

Mail client support for video technology
The level of support for video technology in email varies among email service providers. Not all your customers will be able to see the fully animated email with sound. How do individual email clients cope with multimedia content?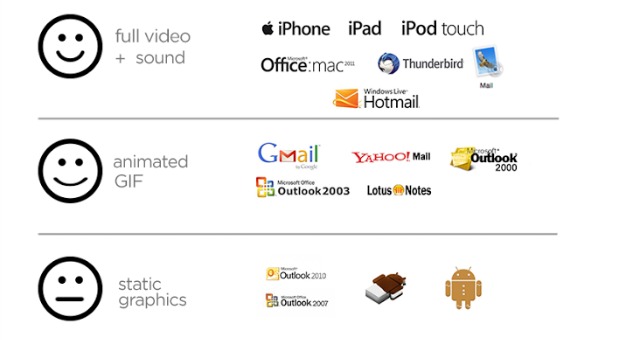 Should the fact that some of your audience uses email clients that do not support video emails stop you from designing an interactive newsletter? No.
You can use fallback files and load a replacement in the form of a GIF animation or a static image. This makes you sure that for every individual recipient the email will be displayed correctly.
Learn more about how to code your email for specific email clients in our CSS Report.
Technical basics
As I said earlier, it's worth taking the time to experiment with video content in your newsletter campaigns to see what it can do for you. But where to start?
Let's skip the actual production stage and the choice of whether or not to outsource this task or do it yourself, eg. in Windows Movie Maker. Just remember that your video cannot be too long. Think of it more as a kind of television commercial that lasts for 30 seconds at most. When your video is ready, keep these things in mind:
1. Save the file in two formats: mp4 and ogg.
2. The video can not be too large (> 1MB) because it can exceed the maximum size allowed by email service providers.
3. The size of the file is significant. The email layout should not exceed a width of 600px, so the suggested size for a video is up to 300x160px.
4. Embed the video file on a server with adequate bandwidth. Imagine that a thousand recipients open the same email at the same time. Your goal is to ensure that the content loads as quickly as possible. Keep in mind that the file will be sent from the server and should be ready to view almost instantly since many subscribers will not have the patience to wait.
5. Prepare fallback files for your subscribers who use mail clients that do not support video in email. For animated gif or a static image use a frame from your video to keep consistency in the message.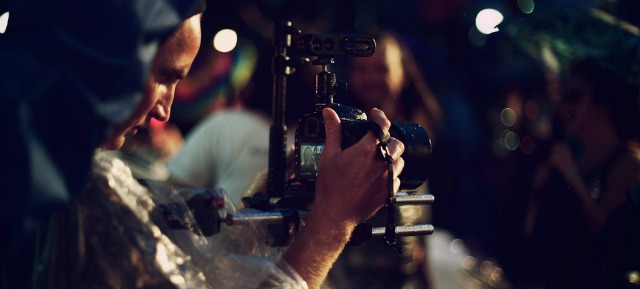 How to embed a video in the newsletter and not die trying
Thanks to Viwom it is possible to embed videos in your newsletters. In addition, Viwom has made sure that the task of embedding videos in the HTML is an easy and quick task to do. In the following tutorial, we show you how to do it.

Still hesitating?
If you're not sure how your audience will react to their mailboxes "speaking" to them, consider these points:
Are your recipients ready for multimedia content in a newsletter?
Inform your subscribers in the email subject line that there is a video in the message. This can actually help to increase the open rate by creating interest in the content.
Is autoplay good for everyone?
Autoplay video in email is a new form of communication that will not be accepted by everyone. For some, multimedia messages may simply be too invasive.
Run a test campaign on a small group of your subscribers and check their reactions. If the test goes well, use the autoplay option and remember not to loop the video. Especially if you send an email with audio since we all know that a video played over and over again can be annoying.
What about the fact that Gmail, the world's most popular email service, does not offer full support of video in email?
Pro tip for Gmail users. A deafult YouTube plug-in allows videos to directly in Gmail. Just remember to host your video content on YouTube.
How often should I send video newsletters?
Video content is a great way to create an engaging newsletter. Short films help you educate and inform your customers in a clear and entertaining way as well show the personality of your brand.
Videos should be a an entertaining diversion and not a pillar of your communication strategy. Trust your intuition, experiment and use what you know about your customers to help shape your message.
Get inspired
Use the video to show more of the details and benefits of your product. Convince customers that online shopping can not only be simple, but also reliable.
Reveal some secrets from behind the scenes and show your backstage footage. Build trust in your brand.
Tell a story and use real-time marketing. Inform and tease to gain loyal and engaged customers.
Sign up for our newsletter
Looking for inspiration? Sign up for our newsletter and start creating amazing email marketing campaigns!