The end of the year is a time to spend with family, enjoying a rest and sharing wishes for health and happiness. Marketers have their own list of wishes for the New Year for higher conversions, more engaged subscribers and better optimisation of their work.
Let's take a closer look at what marketers are wishing for from January and what we can do to make them come true!
3 #EmailMarketing Wishes and How To Make Them Come True Click to Tweet
I wish my subscriber list would grow faster!
You can speed things up by introducing a few changes into your marketing practices. They're small changes that can bring big results when it comes to taking advantage of the potential traffic to your site and turning it into solid leads. The first change should be expanding the reach of your newsletter signup form.
Create an additional landing page
Higher conversions and an increase in leads can be achieved through a dedicated landing page. Steering new subscribers to a such a page is more effective than sending them straight to a sales-oriented page. This is due in large part to the fact that so few visitors are ready to make a purchase on their first visit ( only about 4%).
Companies see a 55% increase in #leads when increasing their number of #landingpages from 10 to 15 Click to Tweet
Hubspot tells us that B2B and B2C businesses see more leads after setting up dedicated landing pages: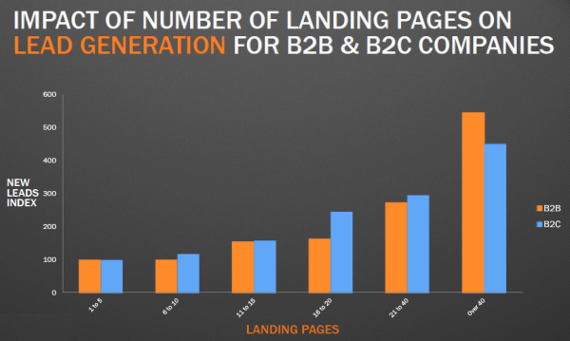 Their minimalist form makes it simple to communicate the message that all you're asking for is to add them to your mailing list. It then becomes a simple choice uncomplicated by anything else - either sign up or leave.
Here's how to do it.
Give a good reason to sign up
Drive traffic to your landing page with an offer of useful content, discounts or even current news in exchange for an email address. Among the most effective kinds of content you can offer are:
white papers
ebooks
videos
access to webinars
Learn more about how to create them and put them to good use here.
If the goal of your landing page is to increase signups to your newsletter, make the case for why it's worthwhile. Make clear the audience for the newsletter, how often it's sent and assure everyone that their personal data is safe with you and they won't be bombarded with spam. This is all part of a professional and credible appearance for your message. Subscribers want more than just sales-oriented material.
Take advantage of the chance to collect more detailed data
Giving away something valuable or useful lets you ask for something more in exchange. Use the opportunity to get additional information that will help you to better target your marketing efforts. Data like education, profession, residence and telephone number can be useful. If your offer is attractive enough, new subscribers will share this information with you.
In addition to your dedicated landing page, be sure that you also use other pages to encourage new subscribers to join.
Optimise your website and blog
Another important part of growing your subscriber list is your main web page and blog. Place your sign-up form in places where it can't be missed. Use the traffic to your site to turn as many visitors as you can into subscribers.
What makes an effective sign-up form?
The form should be placed above the break in the page to ensure that it can be seen without having to scroll down
Make it easy to read by using white space along with the proper graphic presentation and text format
Place the form in a strategic location on the page, as below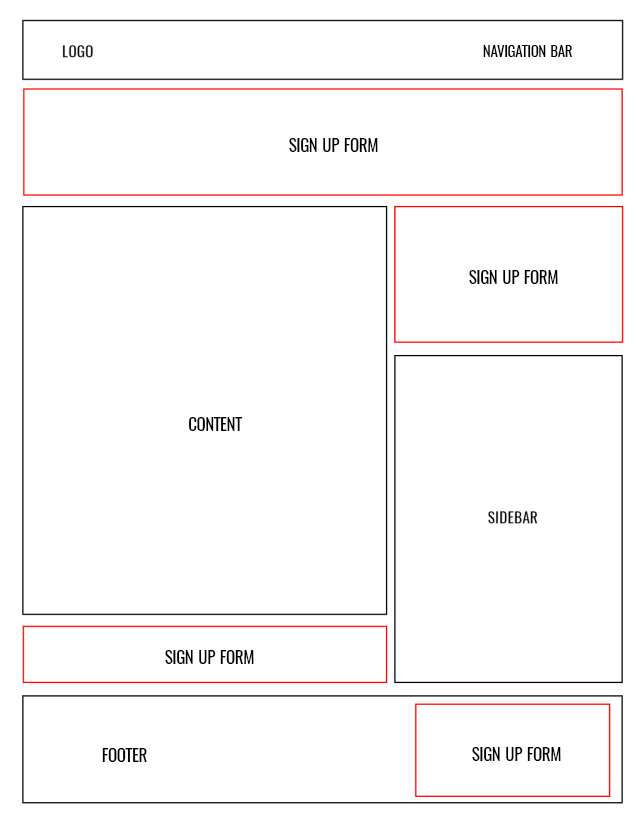 After collecting email addresses, it's time to turn your attention to the quality of your subscriber lists.
I wish I had more valuable addresses in my list!
You should send your first message soon after collecting a new address. It's best to start developing your contact right away and begin the process of converting subscribers into customers. Those who receive welcoming emails show 33% more engagement with the brand.
Here's how you can use your very first message to new subscribers to start building a relationship.
Use autoresponders to welcome new subscribers
With the help of autoresponders, you can set up a series of welcoming emails. Be sure to design them in such a way that they're connected thematically and offer useful content that new subscribers can use right away.
You can also suggest that they set up a special folder in their email accounts for your messages. This will be a signal to email service providers like Gmail that you are sending desired content that is well-received by recipients. This in turn has a positive effect on how your messages are treated and they are less likely to be directed to spam folders.
Example series of welcome mails:
Right after signing up
Confirmation of joining your mailing list or activation of account, as applicable.
Second email right after signup (Sign-Up Autoresponder)
A message thanking the new subscriber for signing up and with an offer for a target group.
Three days after signing up (Follow-Up Autoresponder)
This is a good occasion to detail special promotions for new subscribers and customers.
Six days after signing up (Follow-Up Autoresponder)
The time is right for a direct sales pitch along with other special promotions and discounts.
Seven days after signing up (Follow-Up Autoresponder)
Bring the series of welcoming mails to a close here. Follow up with the sales offer from the previous mail. Use a rebate and make it clear that this is the last chance to use it. Creating a sense of urgency can be just what you need to close the sale.
Setting up this cycle isn't the end of a great welcoming message. The content itself is the star of the show and that's why you need to...
Personalise content
Adapting your communication to fit needs and preferences of individual subscribers through personalisation is a must if you want to get the best results from email marketing. The numbers are clear. Personalisation can:
Increase your CTR by 14%;
Boost conversions by 10%;
Increase the number of transactions originating from a given mail by 6 times;
Increase unique opens by 29%;
Get 41% more unique clicks on links in emails;
The most simple way to use personalisation is through the use of names and titles when addressing customers. In FreshMail, you can implement this by using the $$name$$ tag.

Example:
To create personalised content with a name for each subscriber, use:Hi, $$name$$! Take a look at what's new!Thanks to the $$name$$ command, the system automatically uses the first name of every subscriber.
Don't forget about other elements of your welcoming mail. Your challenge is to spark an interest among new subscribers that leads them to engage further with your messages.
Engage subscribers
Right from the start, make it clear what you want new subscribers to do and what's available to them after they sign up. Add a call to action to encourage them to take their first steps in the systems and make all the needed links and materials available.
I wish my subscriber lists were better organised!
Building a list is only part of the success of any email marketing strategy. Keeping your address list in good order and maintaining list hygiene is an essential to getting the results you want. Keeping your subscriber lists in good order means being able to optimise indicators like Open Rate and Click-Through Rate and impact your bottom line.
Use the double opt-in model when adding new subscribers
The two basic models for adding new subscribers to your mailing list are single op-in, which just requires giving an address, and double opt-in, which needs a confirmation. This confirmation is typically made through clicking on a link contained in a mail sent to the given address. Clicking the link is the last step and automatically adds the address to your list.
I strongly recommend that you use the double opt-in model. This helps you avoid problems associated with non-existent addresses, like aaa@aaa.com, that are sometimes given in order to receive some kind of incentive. The double opt-in model also helps you stay away from spam traps, addresses used to catch spammers online.
Delete bouncing addresses
Bouncing addresses are those that the system cannot deliver emails to. There are soft bounces (due to things like a full inbox) and hard bounces (caused by the fact the address doesn't exist or permanent technical issues). An excessive amount bouncing addresses will have a negative effect on the quality of your list. Avoid this by removing hard bounce-addresses and monitoring those that cause soft bounces.
Make it a habit to remove any address after three soft bounces. In FreshMail, you can arrange for the system to automatically do this.
Use segmentation
Segmentation is all about creating groups of subscribers with common characteristics. It could be subscribers living in the same area, with similar purchase histories, men or women of a certain age and so on.
Segmentation helps to drive your OR and CTR since it delivers more targeted and relevant content. It also reduces the number of people who leave your mailing list and the likelihood that someone will report your messages as spam.
Forget about paper, use FreshForm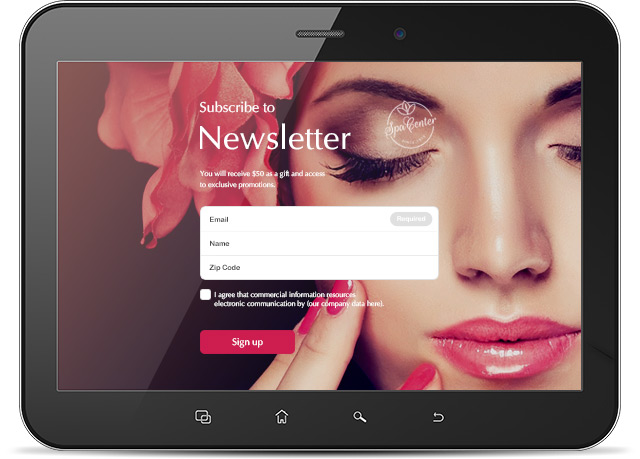 Collecting email addresses at events when you are offline is a great way to build your subscriber list. These days, there's no reason to mess around with the hassle of paper signup forms. There's a more effective and easier way - FreshForm. All you need is a tablet and you've got a mobile sign-up form!
FreshMail lets you go anywhere potential subscribers might be and you don't need to have online access to use it - all data you collect will be added to your account later whenever you connect to the internet. Sounds better than keeping track of lots of little pieces of paper and making sure there are enough pens to go around, doesn't it? It makes you look good too - try it and see!
Never buy mailing lists
Buying email addresses is legally problematic all over the world. Stay on the right side of the law by keeping clear of anyone selling a database of email addresses. Sending emails to such addresses is asking for trouble since you did not get consent from the owners of these addresses to send electronic messages. Such lists can also contain spam traps, which can permanently damage your reputation as a sender and close the most important window of contact you have with your subscribers.
Summary
The year is coming to an end and we hope your email marketing wishes come true in the coming year. Remember what you've learned here and getting what you want will be that much easier. Good luck!