B2B customers get ridiculous amounts of emails every day about products and services, news updates, conferences, discounts, offers, seminars and pretty much everything else you can think of. In 2015 the average daily number of sent and received emails in B2B will be 122.
To keep your open rate and click through rate high you have to be bold and live up to the image of an expert in the eyes of your customers. Send relevant, interesting and helpful content if you want to succeed.
How do you build a brand credibility through email marketing? Here are 8 ways to do it through using appropriate communication strategies that will improve campaign results and ultimately win the battle for potential customers.
Don't miss out on 8 ways to an effective #B2B #newsletter Click to Tweet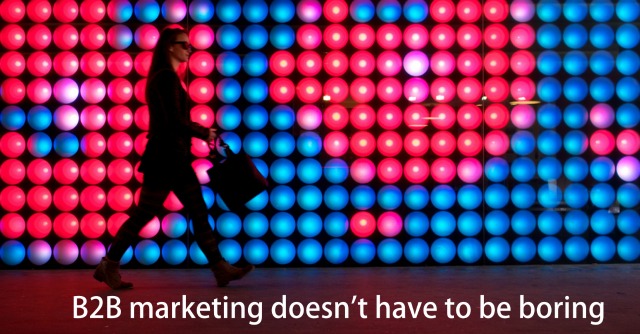 1. Get to know their needs
Before you start planning a campaign, ask yourself what B2B customers really want. Think about how they make decisions, what their everyday work day looks like, what is important in their business environment, etc.
#B2B recipients desire #information Click to Tweet
Access to information enables a business to function and grow. Short-term promotions and offers not related to the work environment aren't engaging in B2B. Try to focus your communication around:
unique expertise and priority access to information
access to premium content
factors that will reinforce the importance of the recipient in the organization
2. Time matters
Know your target audience and design an appropriate communication scheme. Set the frequency of newsletters at the start and be consistent.
What is distinctive about communication with business people? Most of them start their day by checking their inboxes. It's a way of organizing work, setting priorities and addressing key issues.
Therefore, do not send email on Friday afternoons. Everyone is already thinking about the weekend and life outside the office. According to Marketing Sherpa,
Wednesday is tied with Tuesday as the most effective day to send #newsletter to both #B2B and #B2C Click to Tweet

3. Your email headline is your businesscard
Have you ever deleted an email without reading it, relying only on the impression of the headline alone? Get the attention of the recipient right from the start in the email subject line.
What keywords are appealing in B2B communication? Your emails will get opened if recipients suspect that the content might be significant and relevant from their business perspective.
What attracts a B2B subscriber? New information, an opportunity to learn and gain new skills, a chance for business growth and work optimization.
Email headlines proven to work in B2B contain phrases such as: "report" "white paper", "trends". Try going with phrases related to measurable benefits and profit, i.e. specific numerical values.
4. Don't sell - educate
Sales content that used to be effective is now just annoying and does not help you build trust. To become a valuable partner for B2B customer you should educate your audience. You will be perceived as a professional and your product or service will gain real value.
Send information tailored to the industry you are communicating with. By adressing specific concerns and business needs you will ensure maximum conversion.
The decision making process in the B2B sector is different from the manner in which individual customers decide. Good B2B communication contains a problem solving-approach and helps customers choose what is best.
Look at these examples of effective forms of content, tailored to the customer's decision-making moment.
5. B2B doesn't have to be boring
Storytelling is the process of engaging the recipient through interesting and entertaining content - do you think it's impossible in B2B marketing? The American company Tennant Co., a cleaning equipment producer, has proven that even a superficially boring industry can be creative and fun.
The company was awarded with a prestigious Marketing Sherpa award for their email marketing campaign. Their Australian headquarters decided to carry out exactly the same campaign:
What exactly did Tennant Co.?
For the launch of their two new machines the company decided to think outside of the B2B box to conceptualize an entertaining campaign theme. An old newsletter was replaced with a funnier message, based on the human factor, not a dull product description.
The "I wanna ride" email presented the new machines as "Hard-Core Riders for Hard Floors" and a must have. There was just a single call-to-action which directed customers to the landing page. The message continued there with an illustration of the two machines speeding down a school hallway into the sunset.
A custom approach and storytelling paid off with these results:
32.5% open rate
17.1% click rate
13,884 deliveries
20 demonstration requests
Sign up for our newsletter
Looking to enhance your email marketing skills? Sign up for our newsletter and start making more effective campaigns. You'll get informative, useful content along with tips and case studies. Get better results from your campaigns starting now!

6. KISS - less is more
Tennant's case illustrates well the Keep It Simple and Sweet principle. After all, you want the recipient to look at your email and be able to perform an immediate action, even if it takes him 30 seconds on a smartphone. Before you design your potentially appealing email think about:
a clear and transparent layout
an understandable and interesting message
good product photos or relevant, engaging graphics
a clearly visible CTA
Reader habits constantly evolve and email designers should be familiar with the rules of eyetracking. Knowing how the recipient looks at the computer screen, you are able to build a clear layout that converts. Check out how to create such marketing messages.
7. Speak with color
Customers, even in B2B, are still human. Their motivations and senses work in the same way as yours and mine.
Have you ever wondered why little girls are dressed in pink and little boys in blue?
There are general patterns that allow you to predetermine what color will be more appealing to man or to woman. According to a study conducted by neuroscientists Anya Hurlbert and Ling Yazhu at the University of Newcastle men prefer bright colors, and women lean toward pastels.
Knowing your audience, you can use this mechanism. Suppose that you are communicating with senior managers from large corporations. It is likely that most of them are men, who prefer bright or achromatic colors.
Look at how this insight was used by Jack Daniels in their newsletter for Father's Day.
8. The power of inbound communication
Integrate your email marketing campaigns with your social media activities - it's an easy way to increase the reach of your email. Add social media buttons to your newsletter. Twitter and LinkedIn share buttons will work best in B2B, because that's where businesses typically show the strongest presence and engagement.
If the recipient is interested enough in your email content and clicks the "share" button the message will appear on his account in the form of a link and a brief note, and his contacts will be able to see it and interact.
Don't forget about mobile users. More and more business emails are being opened on smartphones. You should ensure that regardless of the end device, your creations look legible and display properly on a variety of screen resolutions.
Effective B2B email marketing
Success in B2B marketing lies in the appropriate combination of offline processes with the ability to use online tools. Email marketing is a relatively cheap but effective online tool.
I hope this article inspired you to use email with building your brand's credibility and to engage your customers. A trusted brand is the foundation of an interesting conversation. Just remember that it's not just companies that are communicating with each other. Communication is an act between employees - people among whom there is always room for a good story or a relationship.

Sign up for our newsletter
Sign up for our newsletter and start making more effective campaigns. You'll get informative, useful content along with tips and case studies!