The effectiveness of email marketing campaigns can be verified in different ways. Researchers from EDISONDA Studio have, for the third time, used eyetracking technology to see how messages are viewed on mobile devices. We're going to take a look at a few of the most interesting findings of the research and later you'll find a link that will let you download a free e-book with the full results.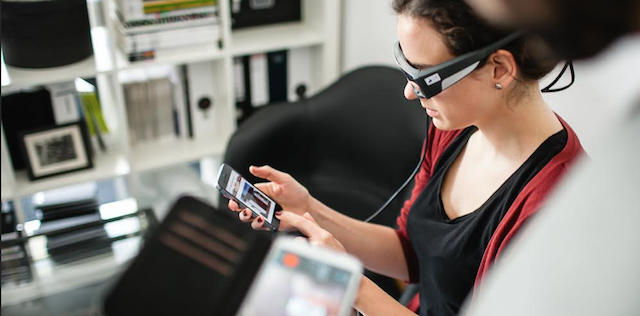 The eyetracker is a device that makes it possible to track the movements and focus of the eyes and its mobile version lets us do so on messages displayed on mobile devices. Bear in mind that the use of eyetracking in the context of email marketing is rather innovative and many of the results and conclusions it provides should be used as inspiration rather than design guidelines.
Desktop vs. Mobile
A general observation taken from the completed research that surprised everyone involved was the fact that many of the same results were achieved when using stationary computers. This may suggest that the size of the screen has little influence over how the content of the message is perceived.
But what does distinguish mobile from desktop is the significantly different ways in which they are viewed. While users tend to view messages in much the same way on stationary computers, there was much more variation in the way users of mobile devices perceived them.
Length and text format
It appears that users don't care for long paragraphs. During the course of the study, participants had trouble reading long single blocks of text, often became distracted while reading them and most likely remembered less of the text when they were done. This is point well worth remembering when designing email marketing campaigns, especially newsletters. Longer paragraphs can have a negative influence on the number of clicks on the CTA.
The same applies to the formatting of the text. Centered texts will probably be less understood and remembered than those aligned to the left hand side of the page. This is likely the reason that some users quickly scanned fragments of the message and skipped to the end.
Are faces the most interesting?
Our attention is strongly attracted by faces. In the majority of situations observed in the study, test subject concentrated strongly on that aspect of images much more than, for example, products presented by models. This was particularly evident in advertisements for clothing companies. The phenomenon is well illustrated in this short film:
Insights for email marketing
Finally, it's important to note that in the design process, created solutions should always be tested. The first reason is because it helps to uncover problems before it's too late to fix them. Secondly, even the results of partisan research can be valuable for others apart from the designers.
You'll find more insights on the subject of email in mobile devices and a link to download a free ebook at http://www.edisonda.com/mailings/.