Do you wanna grow your business fast? Email is the way to do it.
Email has a ROI of 3800%.
Email is 40 times more effective than social media.
Consumers choose email to receive information from brands.
Checking email is the number one activity on smartphones.
With email awareness of pretty much anything can spread really quickly. Key to your success is to send the message to the right people. Build an engaged following over email and use it as an engine which brings people back to you over and over again.
This post focuses on ways to grow an email list without producing extra content. Check how you can start right and create your email database.

What data to collect?
Creating an email database of valuable and loyal recipients demands more than just putting a sign-up form on your website. It has to be a sign-up form that converts. 
First of all: make it simple! Lesser the work for your visitors, higher the conversions. It's best to limit the information you ask for to the absolute basics - name and email address. 
Our research shows that if there are more than seven fields to fill in, people will simply resign from the whole process 92% of the time!
Is consent important?
Short answer - yes, yes, yes! If you add to your list only people who have shown an interest in you, you can effectively develop a relationship with them, based on trust. You will avoid ruining your reputation and being marked as a spammer.
Remember to add checkboxes about the fact that you intend to use the email address for marketing purposes at some point in the sign-up process.
For instance: 'I agree to provide my personal data to XXX for the purposes of marketing and promotion of their services and products.'
Visibility of the sign-up form
It is important to place the sign-up form in a visible spot and not necessarily only on the main page. The info about the possibility to sign up for the newsletter can be also placed in a pop-up window. A good example here is J.Crew.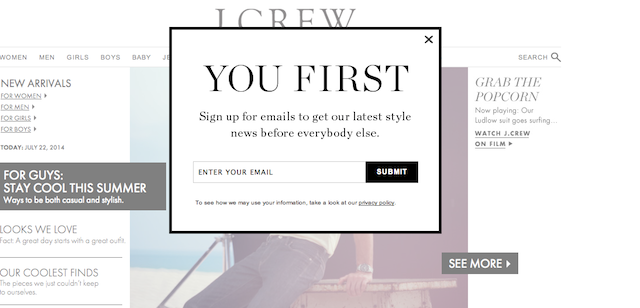 A prize for signing up to a newsletter
Include some kind of prize or bonus for signing up. I assume you want to build your list fast and you don't have time to produce extra content.  What can you do instead?
run a live webinar or livestream,
run a contest,
do a joint venture,
run ads to your opt-in,
offer a discount if you run ecommerce.
The recipient will feel that the benefits of signing up have already started and it makes a good first impression. This is the approach used by H&M.
Contests and giveaways
True fact is that the more you can engage people, the more likely they are to sign up for your list. I'm sure you've seen plenty of examples of this - "Every 10th person gets a discount, gift or a gadget". Like in Powells case.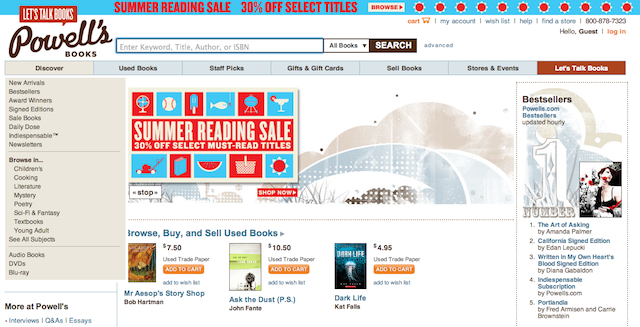 Tell people who sign up for your newsletter that they will be the first to get the latest and most important news since your newsletter is your primary channel of communication - before your Facebook page or blog. Make sure you keep that promise!
Social media
Speaking of social media. You could already see how to take advantage of Snapchat and Instagram, but do not overlook older platforms: Facebook, Twitter or Pinterest.
Tie your email campaigns with social media platforms. Add a 'Like it' button at the top of newsletter which leads a recipient to your Facebook page.
Consider the possibility of adding a 'share' button to your newsletter allowing it to be posted on Facebook and gain more attention from potential subscribers.
Sign up for our newsletter
Looking for inspiration? Sign up for our newsletter and start creating amazing email marketing campaigns!

Newsletters archives
Is your newsletter worth bragging about? If you've sent interesting and attractive newsletters, put them on your website to show potential subscribers to what they're missing and make sure they know that they can have the newsletter sent directly to them.
See inspirations we've gathered.
Search for opportunities
Look for partners willing to place your sign-up form on their websites, for example in exchange for putting their logo in the newsletter. This cooperation can pay off for both of you.
You want to reach the largest possible audience of potential subscribers so you should always be on the lookout for new opportunities. Think about maybe adding it to your email footer as well, so that anyone who gets mail from you can be encouraged to sign up.
Do you know how to use a newsletter 
footer
 to build a list and sell more?
Create an email address database offline
Collect new email addresses wherever and whenever you can! Business meetings and events are great places to collect email addresses. Business cards are fine but what you really want is to add names to your subscriber database.
Use an electronic sign up form that turns your tablet into mobile newsletter subscriber device. You don't even need to have access to the internet, new addresses are imported automatically to your database when you're back online.

Sign-off form
Make unsubscribing from your newsletter easy - place a link which makes it possible in every newsletter so your recipients can remove themselves from your mailing list at any time. Boagworld tells you about unsubscribing "in one click" even before you become their recipient.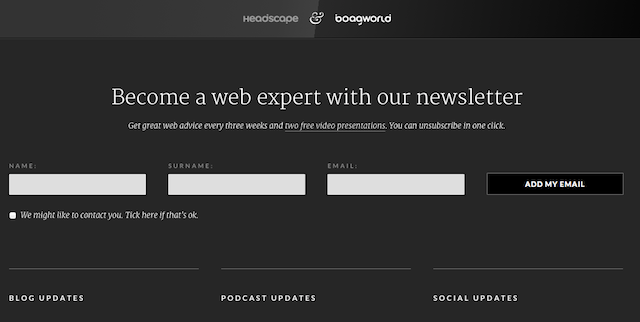 It might seem detrimental at first, but if the recipient sees that you respect his privacy and give him the chance to sign off, your image as a professional email marketer will be enhanced. But if you force your recipient to search for the sign-off form, this only creates resentment and suspicion about why you make things so difficult for subscribers.
Don't forget that email inboxes are thought of as a kind of personal space and giving someone access to it is an act of trust. Make sure you respect it!