There is no shortage of occasions for sales promotions on the internet. Some, however, are more important than others when you're planning a strategy for your ecommerce site. We're going to take a look at important dates in ecommerce that should definitely be circled on your calendar.
September
Back to school
You can tell when the school year is about to begin by changes in the retail landscape. Apart from obvious things like school supplies, sales promotions are also dedicated to the fashion world and new styles, colors and collections. The fact that this time of year also represents the end of the summer season drives sales too, with discounted offers a major draw for online stores.
If you're in the fashion business at any level, offer your customers a discount for products specifically targeted at students like backpacks, shoes and clothes.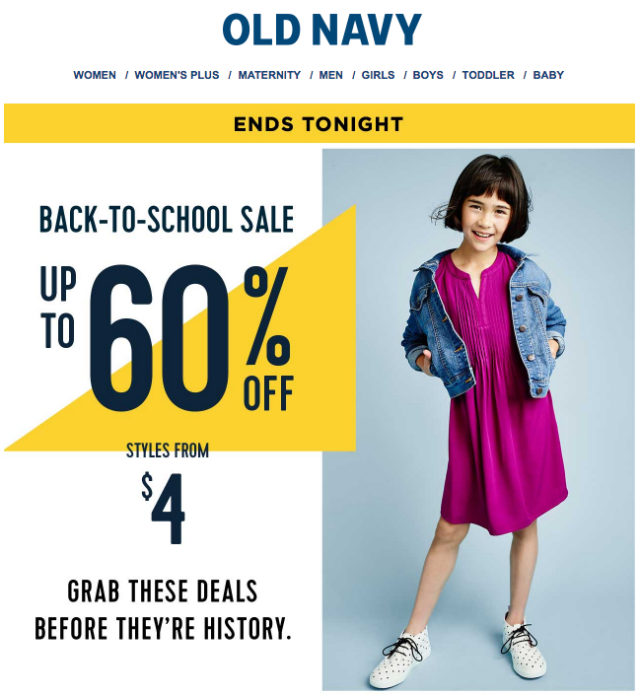 Clarks focuses on convincing us why their shoes are best for back to school:

You can also try to increase sales through a requirement that discounts apply to minimum purchases.
But if you don't want to base your promotion around a sale or discount, create a campaign to enhance your brand image or new collection.
Here's a nice email copy from Surfdome that gives you just the right feel for their brand: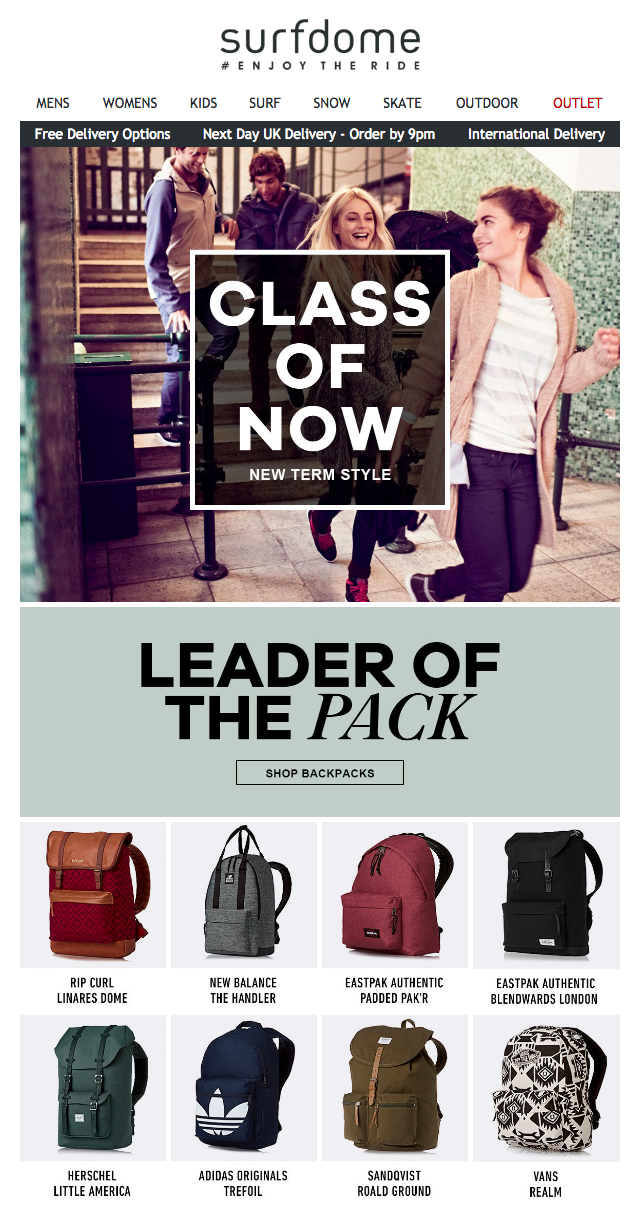 Autumn begins
The start of a new season is a great time to tell customers about the new looks and styles you have for when the weather starts to turn a bit cooler. It's a time to suggest updating what your customers have their closets and newsletters full of golds and oranges.
Look how Mills&Boon encourages subscribers to use their 25% discount. Smiles, autumn and a discount - what more do you want?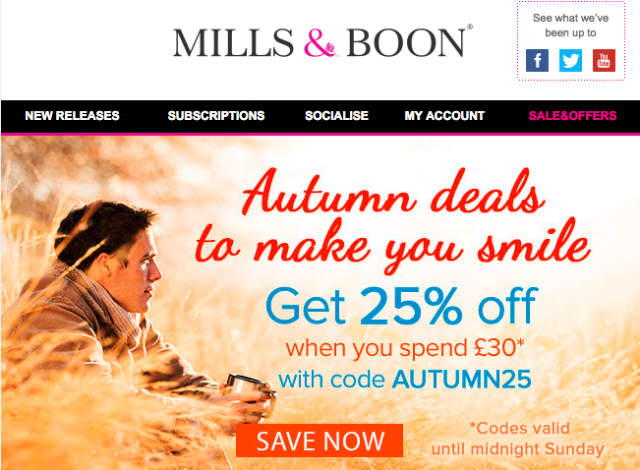 October
There's only one specific date in October but it's a big one...
Halloween
Halloween gets bigger every year with "scary" promotions and special night-time shopping events.
Here's an interesting newsletter from Avon with an eye-catching animated gif offering a 31% discount. Halloween is on the 31st - 31% discount…….get it? :)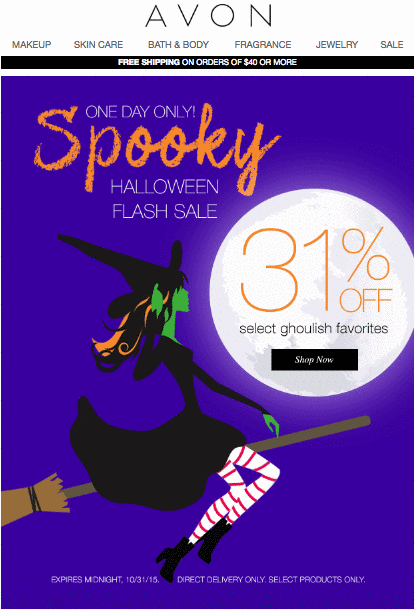 You don't have to start Halloween promotions on October 31st, though. You can always start a few days early and offer a discount to drive traffic to stores like JCPenney.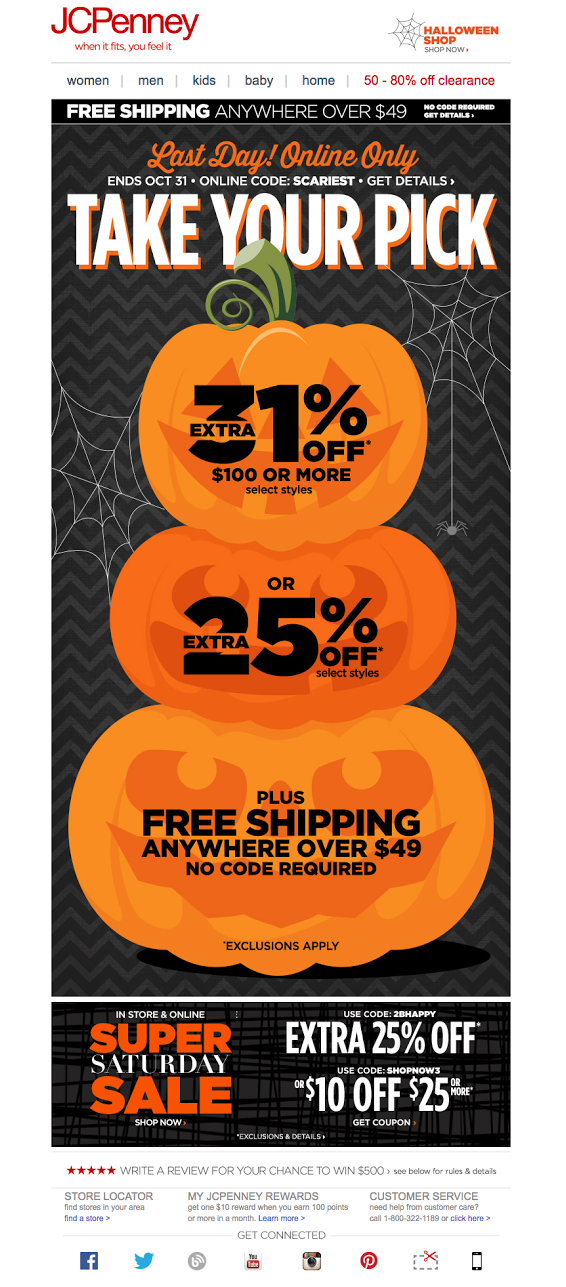 November
This is a time when the real holiday shopping season starts to warm up. Black Friday and Cyber Monday are a big deal everywhere and participation is now mandatory.
Thanksgiving
Ok, it's an American holiday but it signals the start of the Christmas shopping season around the globe. This is when you need your promotional A-game ready to go I like this ad from Newegg because it captures everything about the holiday and you can't miss the S-A-L-E!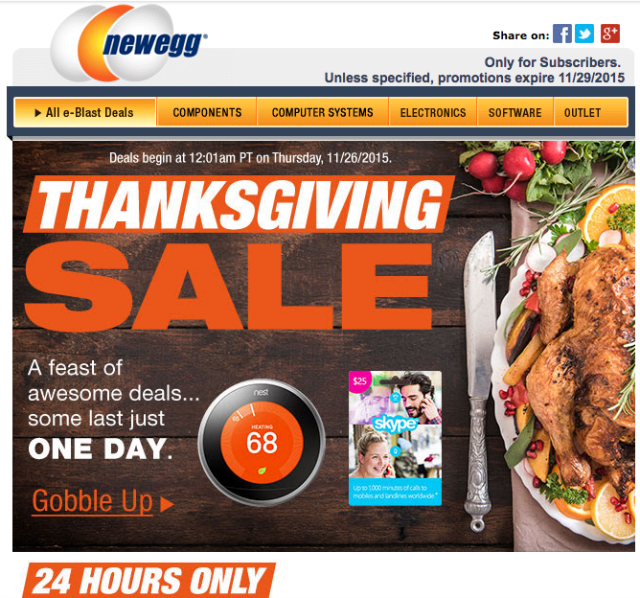 Sometimes a little bit of motion is all you need to get attention, like Urban Outfitters did here.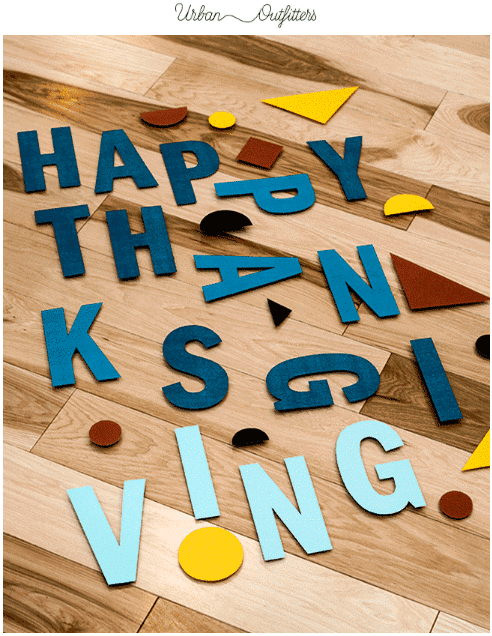 Here a good two-in-one with Saks Fifth Avenue using Thanksgiving as a pre-Black Friday sale. Talk about packing everything into one message!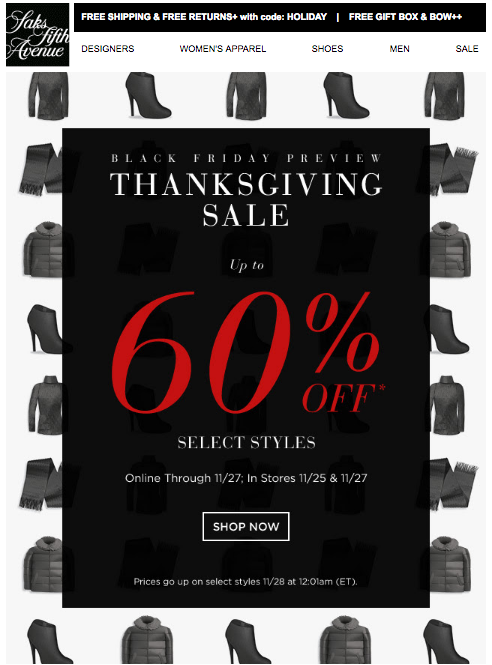 Black Friday
This is when the Christmas shopping season gets serious and one of the most important days of the year for any retailer. Every year sets a new record for online sales and there's no sign that this trend will end any time soon.
Discounts and sales rule the day and if that doesn't fit you, then offer free shipping. Customers expect great deals everywhere and it's the only way to get attention in a crowded field.
Here's something Avon put together offering a discount and free delivery along with a small present.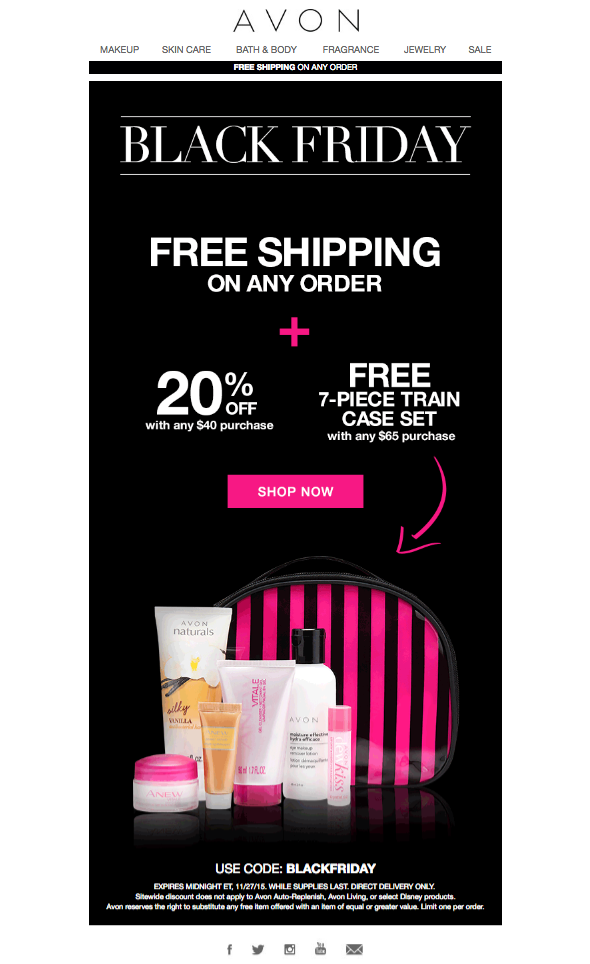 The White Company, in keeping with its name, gets its message across a bit differently. How about a White Weekend instead of Black Friday?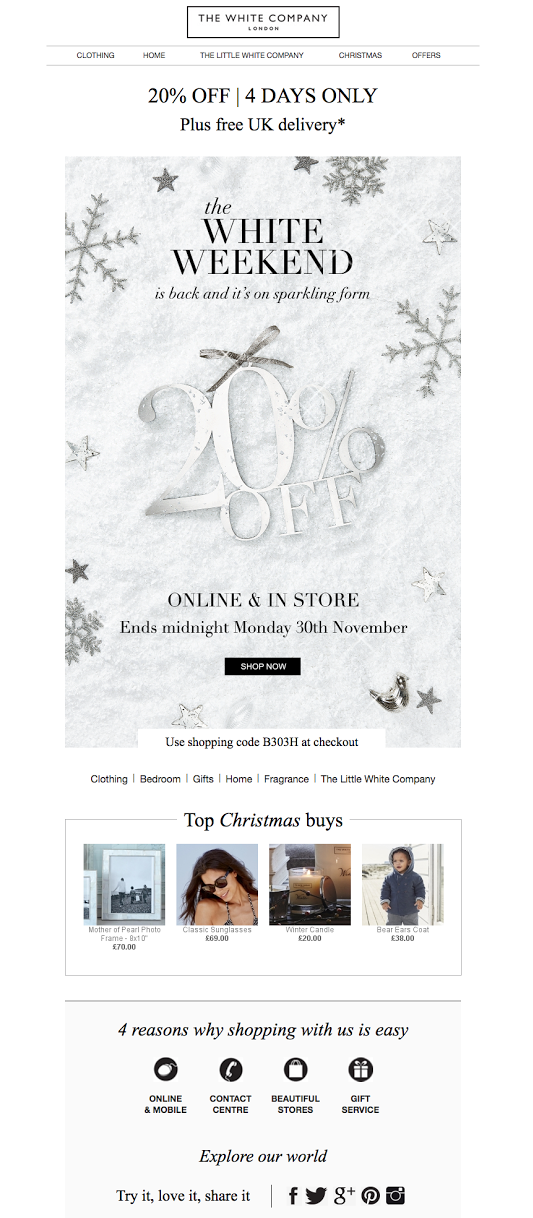 Cyber Monday
If you don't manage to get your shopping done on Friday, just wait because Cyber Monday is just around the corner. This is the online answer to Black Friday. It's a time for online sales to step into their own spotlight and, like all kinds of other sales, it's bigger every year.
Here's a great image from the Need Supply Co. that perfectly captures the point and feel of Cyber Monday.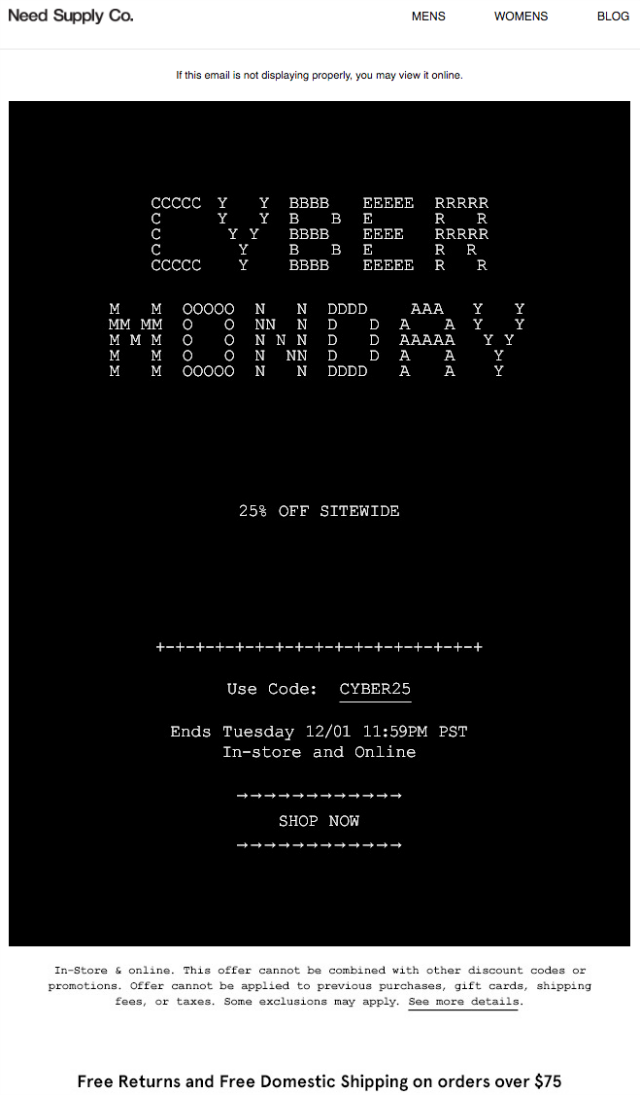 Forever 21 took a different angle, going old school if you understand that to mean the early days of the internet.
December
December is all about shopping. Sales are everywhere all the time and customers have an enormous range of choices for finding just the right presents for friends and family.
Make it easy for online shoppers by creating dedicated landing pages with your offers. Wrap yourself in the holiday atmosphere and arrange your presentation in such a way that makes finding and buying the right gift easy.
Free Shipping Day
Free Shipping Day is aimed at getting shoppers to purchase online on one of the last days when delivery can be guaranteed for Christmas. It's a great time to reach out to anyone who's new to online shopping and to promote yourself generally.
It's also a time to remind customers that there aren't too many days left to order and get purchases in time for the holiday. Remind shoppers of this in your newsletters.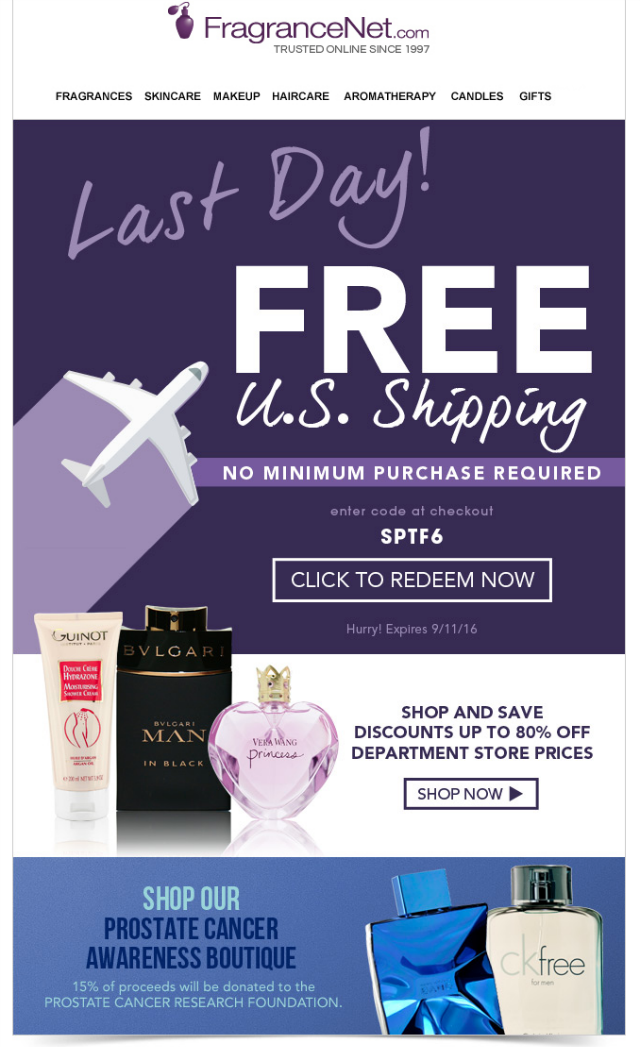 The beginning of Winter
Just like the beginning of every new season, this is a chance to remind customers about new products. Put together a newsletter featuring your new collection, accessories and other products for this time of the year. It can be a sales promotion or just something to keep customers thinking about you but take advantage of this time to be in touch with your subscribers.
Kade Spade had a clever idea for inviting subscribers to learn more about their collection: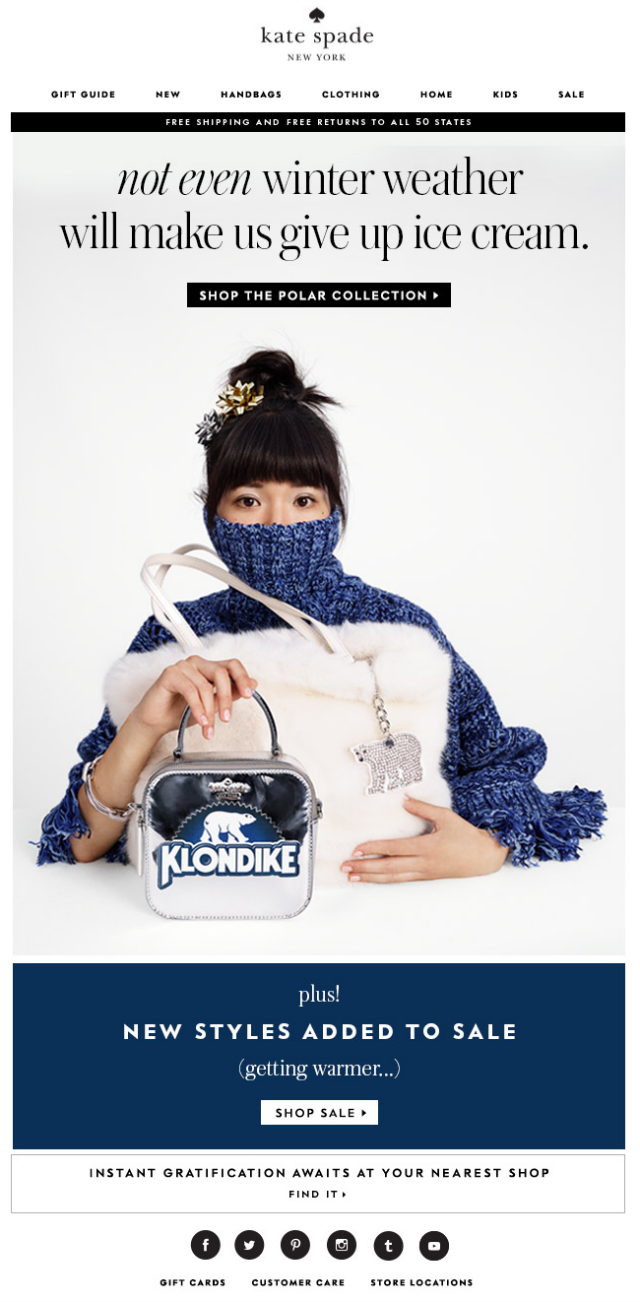 Christmas
It seems like a strange thing to point out but it's actually important to point out that physical stores are closed for Christmas. That means online stores are the only stores for the last-last-last minute shoppers.
For this group, you can offer gift certificates and send them by email or make them downloadable. With the right Christmasy decorations, the giftee will never know it was bought just an hour earlier!

JCPenney, on top of attractive discounts, reminds us that subscribers still have a chance to buy presents even on Christmas - a gift card, of course.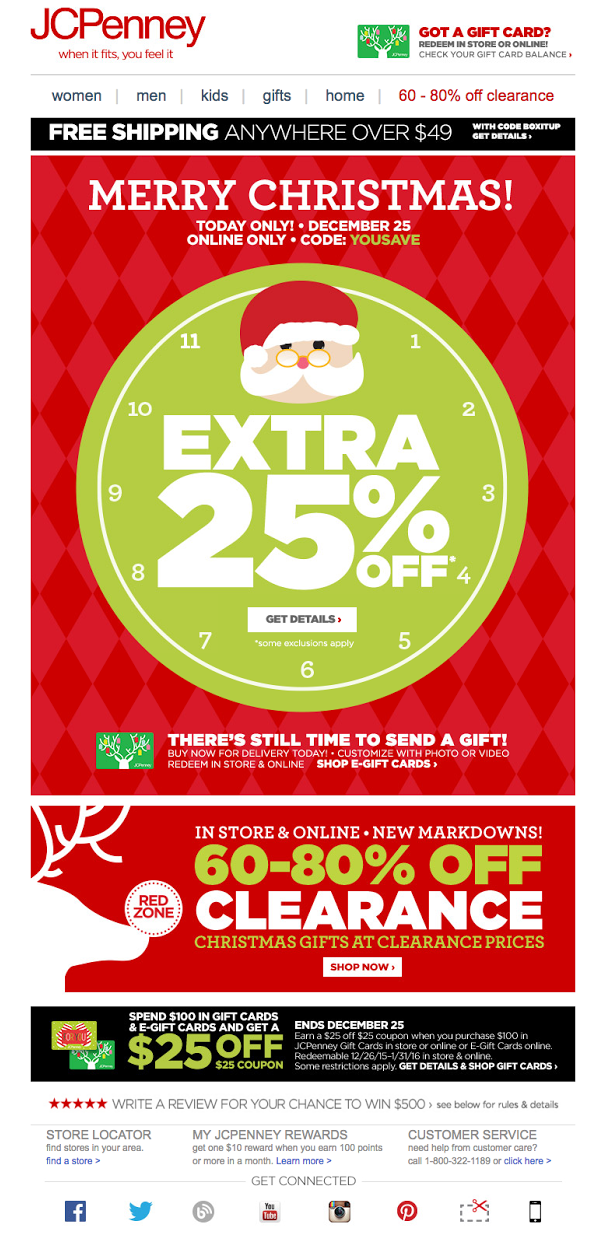 After-Christmas sales
Strange as it may seem, Christmas marks the end of one shopping season and the immediate beginning of another. People go crazy for after-Christmas sales looking for mega-deals even better than those they found a few days earlier.
Here's Avon showing us just how deep the discounts can go.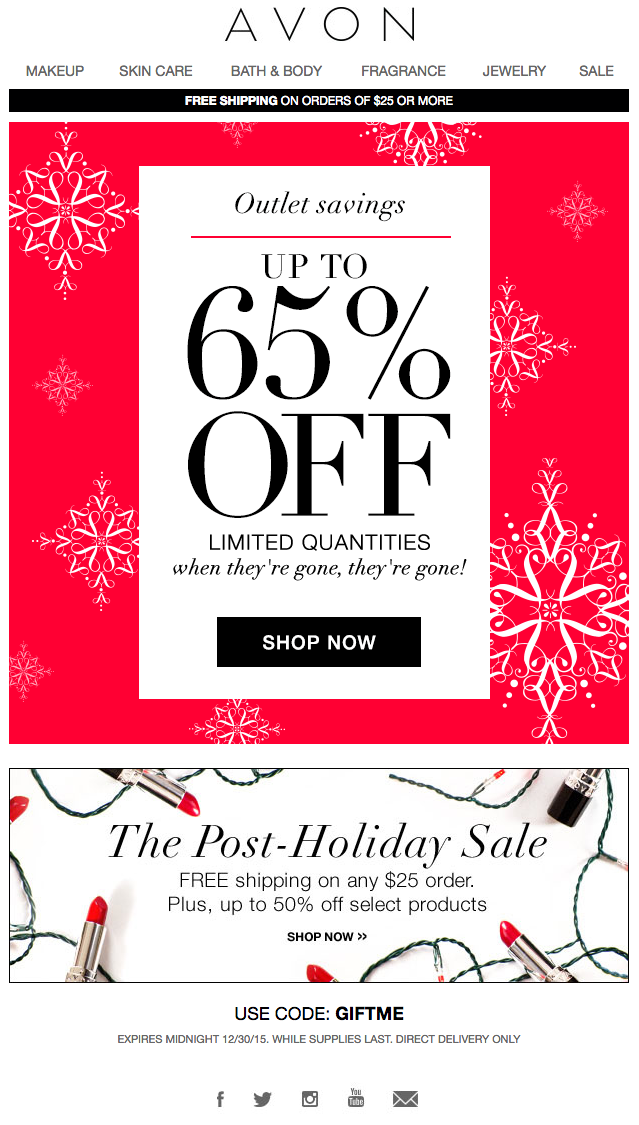 Herschel Supply Company took a minimalist approach to a one-day sale.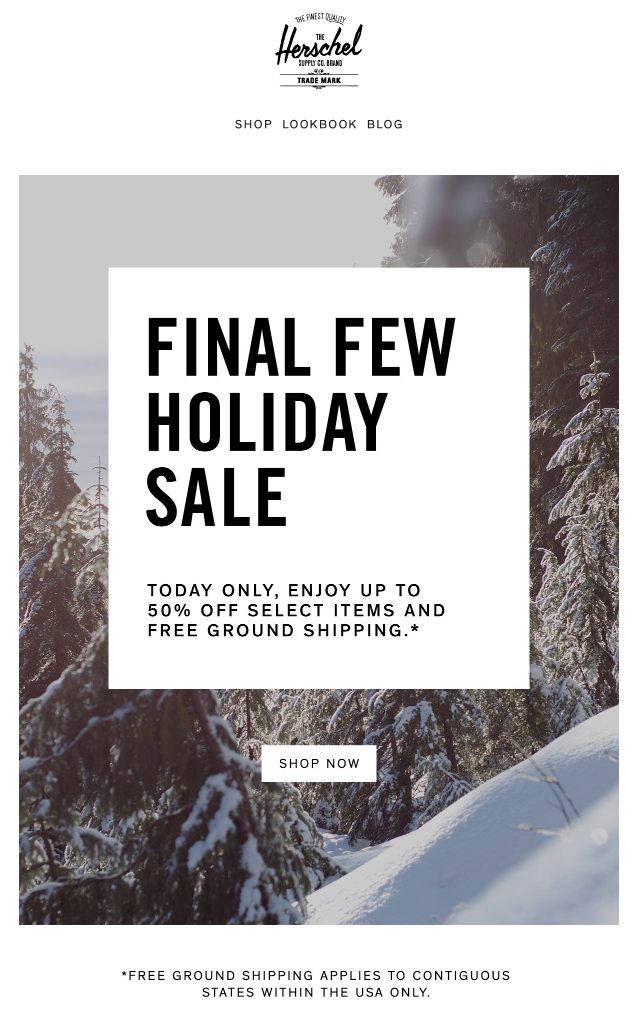 New Year's Eve
Another reason to buy a new pair of shoes or a new dress, right ladies? Lots of people are looking for something to impress at the big party so show them what you've got!
Old Navy gives 31% of discount for online purchases only: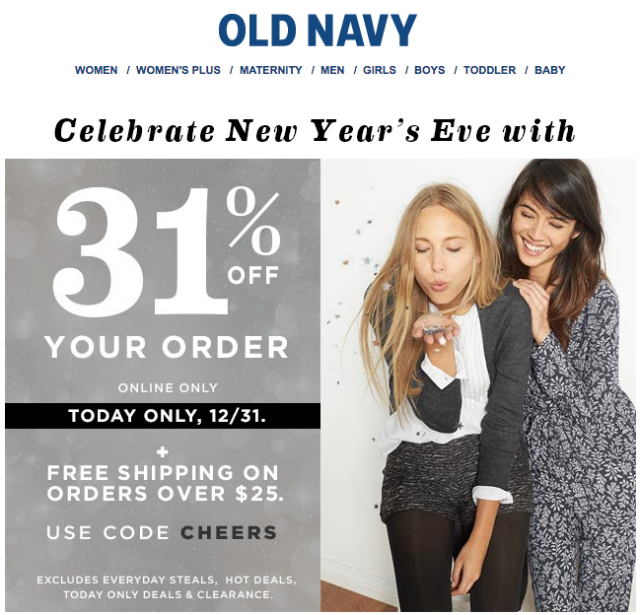 Avon gives an elegant present to any $50 purchase.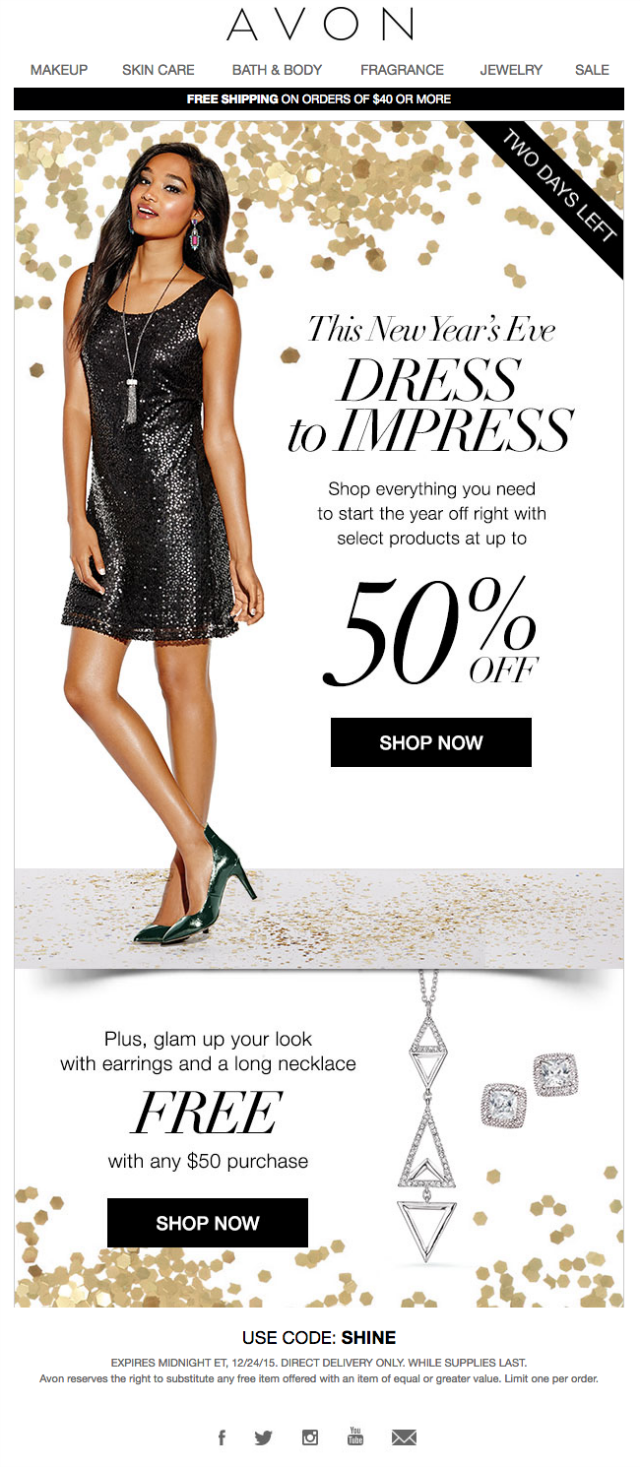 The bottom line
The greatest advantage of ecommerce is that it's open 24/7. Sundays, holidays, whatever - it's there all the time. This gives us the chance to make sales around the clock and drive traffic to our sites at any time.
Keep all of these dates and times in mind when planning your strategies. Each presents unique opportunities for different kinds of promotion.
Those promotions are usually centered around price discounts but they don't have to be. Just tying your offer to the images of the season can be a great way to build your brand.
Almost any reason is a good reason for a sale, right? The calendar provides us with lots of times that are associated with cash registers and you need to be a part of it. The months and weeks pass but new chances to reach customers are always just around the corner so start planning your next newsletter today!