Email is everywhere. In fact, according to Paul Buchheit – a partner at Y Combinator, the founder of FriendFeed, and a key Googler – "Email is not going to disappear. Possibly ever. Until the robots kill us all".
If email isn't dead, what about email marketing? 72% of consumers find email to be their preferred channel for receiving commercial messages, and 66% of consumers have made a purchase online as a direct result of an email marketing message.
The average tech-savvy consumer receives dozens of emails and promotions in their inbox everyday. To break through the junk and obvious sales pitches and grab the reader's attention, it's vital to craft a beautiful, valuable, and engaging email. One great way to do that is by including visuals like infographics.
#emailmarketing + #infographics = success Click to Tweet
Why Visuals
What you can do with text alone is limited. By using visuals like infographics in your newsletters, you have a better chance of capturing and keeping your audience's attention, conveying more information in less time, and spreading your message faster.
According to research summarized by Wyzant in a convenient infographic (of course!), humans now lag behind the goldfish in terms of being able to concentrate or focus on a task. To make up for this, infographics balance text with visuals because visuals take less time and mental energy to process (at a rate of almost 60,000 times faster).
We're also remarkably forgetful. We lose all sorts of things, from our keys to the URL of that product we thought about buying (or that hilarious cat video we couldn't watch at work). Infographics combat this by being "sticky": adding relevant images to information leads to a significant increase in retention.
Visual materials like infographics increase audience engagement because readers pay attention to information-carrying images. "When the images are relevant, readers spend more time looking at the images than they do reading text on the page."
Infographics + Newsletters = Success
Using infographics in newsletter seems like a snug fit. It makes sense to leverage a medium that focuses on quick and easy visual communication in an area where your readers are moving quickly to process their email.
But how should you go about incorporating your newfound knowledge? What's the best way to put it into practice? Let's talk about a few practices that should help increase your clickthrough and engagement, then we'll take a look at a few infographics that do things the right way.
Newsletter Infographic Best Practices
The first step in creating an engaging infographic begins well before you choose a template. The most effective way to get a head start towards success is to do your research. Putting in the effort ahead of time will make your task much easier as you go along.
It's important to start with good content. It all rolls down from there. Your job as an infographic creator is to inform your audience. I mean, "info-" is right there in the name. To focus on delivering facts, you need to know what the facts are.
Know your audience, and make your infographic relevant to them. This is your mailing list, and you're got it segmented in ways that make sense, right? Take advantage of that by tailoring your message to each specific group. People appreciate when you take the time to speak to them instead of everyone all at once.
On the design side, try to visualize as much as possible. Remember, there are big benefits to using visuals instead of relying strictly on text. Simplicity often means sacrificing words when an image would convey the message.
Keep your infographic "clean" and balanced. If you're using an outline as a guide (and you should be), ask yourself if every element is necessary. Does it move your audience forward, or does it sidetrack them down a different path? Use the same styles for icons and charts. It makes things less distracting.
It's also a good idea to separate your infographic into smaller mini-graphics and put them back together in your email service. Piktochart offers the option to download your creation in separate "blocks", which would help with this step.
The reasoning behind this is because spam filters always measure the ratio between text and graphics, so it's up to the sender to make sure that the first exceeds the second.
It also helps to have an extensive footer with detailed information about the sender. From a marketing point of view, this data is not particularly important, but it is a good solution for avoiding text-to-graphics problems.
Infographic Inspiration
With those content and design guidelines in mind, take a look at these examples of people do it right. What can you take away from each infographic to help you run your creation process?
Get the Point Across Quickly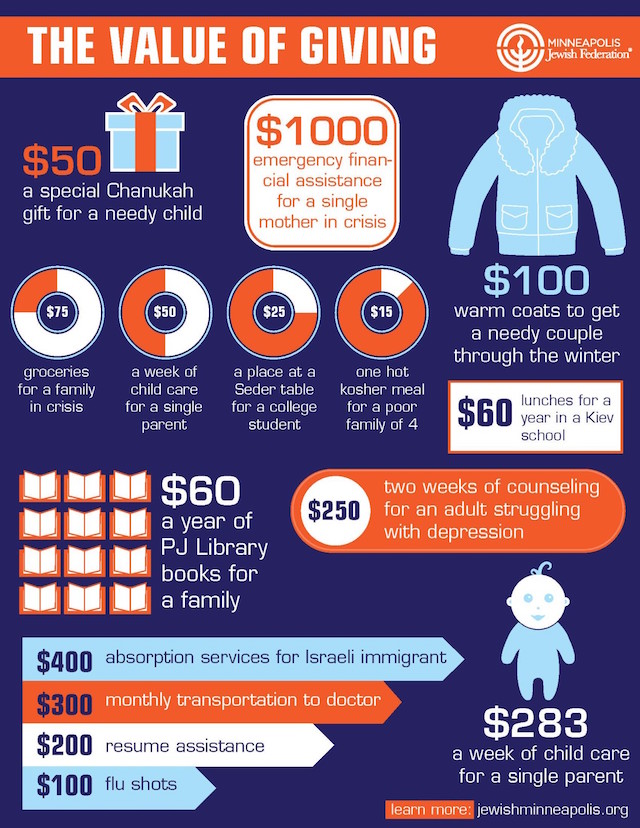 This infographic for the Minneapolis Jewish Federation shows good color choice and conveys important data in a clear layout.
Lots to Say? Make it Fun

This infographic from Single Grain packs in a ton of information. The key is in the presentation: it's fun, and it stays "in character" throughout.
Best of Both Worlds

Finally, this infographic on non-profit communications trends is a few years old, but it brings together most of the things we've discussed. It's thematic to get and keep the readers' attention; there's a clear progression between sections; and it does more showing than telling.
If you'd like to give infographics a whirl in your next email newsletter or marketing campaign, you should give Piktochart a try.
Use the discount code FRESHMAIL10 and get upgraded to Pro for 10 days at no cost. To redeem your code, create a free account or sign in to existing account. Then, go to here and input the coupon code. This code is valid until November 15, 2016. Have fun!