Rebranding links
When you create an email, you can make links in the message look like they were sent directly from your website rather than through FreshMail. You can do this thanks to the rebranding function, which allows you to redirect the domain used to send mails.
This can be done by either using your own domain or creating a subdomain in FreshMail.
Using your own domain
You can choose how you want to use your own domain to rebrand links.
1. Create a CNAME record in your DNS indicating the domain rebranding.freshmail.com (for example, links.your-domain.com CNAME rebranding.freshmail.com).
2. The other way is to redirect the NS record from your domain registrant to the FreshMail server (required NS records: redir1.freshmail.com and redir2.freshmail.com), and by doing so you can register any domain that you own. To be able to use it in FreshMail, enter it in the settings of your account by going to the FreshMail personalization.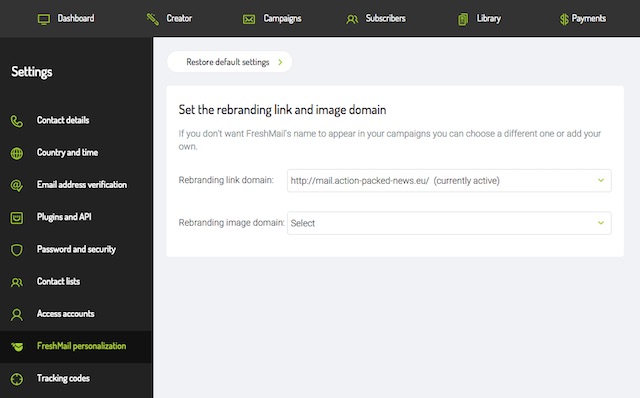 When you set up your domain you need to report it by our email - support@freshmail.com (don't forget to enter its name, please). It takes up to 48 hours from the moment we accept it to propagate the domain in DNS.
After this time you are ready to use your Subdomain.
Subdomain
Create subdomain and then report it to us so we can speed up the process. Isn't that simple?